Travel Committee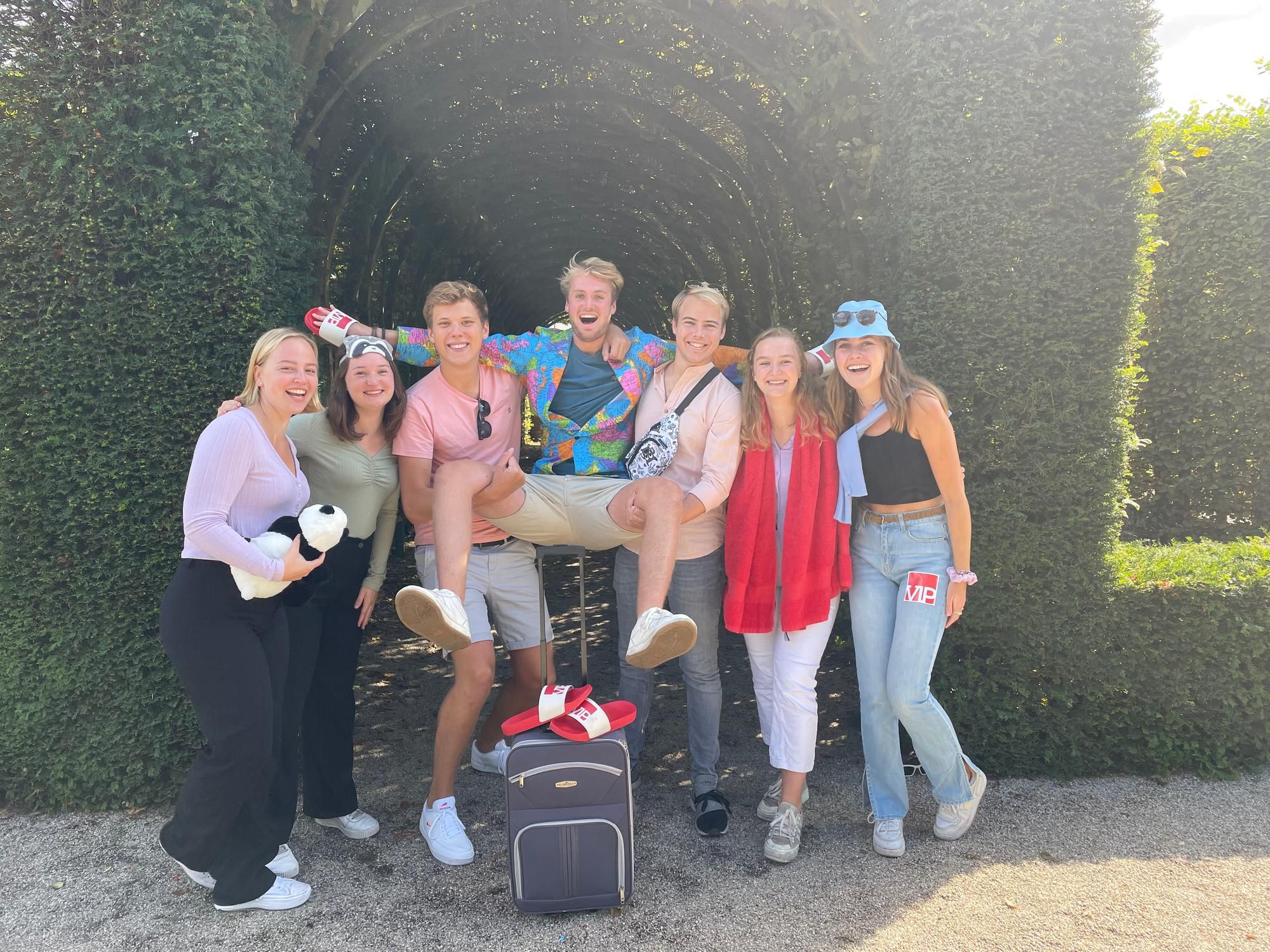 It is an honor and a true pleasure to welcome you to our page! Here you can find an introduction to our committee and its amazing members. For the first time, the Treccie (or Travel Committee if you're feeling fancy) will organize an unforgettable trip abroad! We are very excited, and we hope that you are just as psyched to join us :).
First up, our founder and chair, Ymke Jolanda Klarianke de Haan. Also known as Octo. Octo might be the baby of the group, but she runs the committee with an iron fist. If you're going out on a random weeknight, there is about a 50% chance Ymke will be there, dancing through the night. That is if she hasn't ditched everyone for a guy yet. Ymke is a big fan of the karaokebar, however she does have a trauma from being stuck in their bathroom.
"I'm not going to throw up, I'm just gonna cry a little I think" - Ymke
Next we have our seccie, Rosa (Rosa Rooosaaa). Rosa is known to looove boats, which might also be why she is a member of GYAS. Despite finally having settled down with one guy and imposing to be "normal" and "responsible", Rosa does not fool any of us in the Treccie. To quote Rosa, texting us on a Monday afternoon, with a loooooot of spelling mistakes: "Is anyone going out???".
"If you lie down perfectly, you don't notice that you have a body" - Rosa
Thirdly, we have Sebas, the destroyer. While he is actually our treasurer, Sebas likes to think he is also an interim chair, which means you will find him talking over Ymke at meetings. And even though sometimes it's hard to believe, Sebas has a heart of gold. He is the dad of the group, he takes care of us and is an amazing cook. To all the girls with daddy issues: watch out, you will not see Sebas coming.
'Why do I get punished for being a sletje??' - Sebas
Then we have our commissioner of itinerary Babette, better known as Babsie, Babs, Babseflaps. Babs often gets great grades. Even though she doesn't always understand how that happens, and neither do we. She can tell you all about complex psychological theories, but you might find her confused when you ask her about the difference between sheep cheese and goat cheese. Besides being the smartest, Babs is arguably also the sweetest, most naive, and still most puppy person in our group. That being said, Babs somehow isn't 100% certain she has no criminal record.
'I wasn't cool before I turned 18' - Babs
Next is Corné, who shares the tasks of acquisition and external affairs with his bestie Jelle. Did you know Corné is a descendant of Charlemagne??? Charles the Big One, it makes sense with his stature. Corné is a person of highs and lows. Referring to the length of the man in question, as well as the time he kicked his bestie in the balls while he was on the floor already. When it comes to jokes, don't trust this guy. You can also play jokes on him, like poking him in the arse in a club multiple times and see how it plays out. Corné has emotions like most people. He expresses these emotions by making clear he doesn't like to be poked in his beautiful arse by everyone, by jubilating loudly when he wins a game or by coping with the emotions that come with loss by drinking them away. When everything comes together, Corné is a sweet baby who loves the people (and his dog) around him.
"We could also play reversed strip poker in the sauna" - Corné
Sixth, we have the other half of our dynamic acquisition/external duo, Jelle. Jelle loves to drink, even though it tends to make his brain shut off. When you don't know where Jelle is, make sure to check the toilets of the club, any construction-site fence or simply the barstools in the corner. And when he is not drowning in beer, Jelle is probably drowning his phone for the 8th time. Next to loving alcohol, Jelle is our Sporty Spice. You can find him playing tennis, jogging through Groningen, or busting his iconic moves in the club.
"What do I have on my head?? Oh it's just my hair" - Jelle
Last but certainly not least, we have Afke. Afke, Pafke, Skafke, Lafke, Grafke, etc. Our poster princess, our Insta intellect, and our media menace. Even though she is almost the smallest member of our group, she has the biggest voice which she uses to tower out above everyone else in the karaoke bar, even if she has no microphone. Afke, or Akkie if you will, is an unlimited source of energy. You might find her doing her iconic happy dance when she just can't contain herself anymore.
*Somebody falls down* "Is she actually going to sleep now??" - Drunk Afke
Travel Committee 2022-2023
| | |
| --- | --- |
| Ymke de Haan (2021) | Chair |
| Rosa van der Schoor (2019) | Secretary |
| Sebastiaan Bensink (2019) | Treasurer |
| Babette Bijen (2020) | Commissioner of Itinerary |
| Corné Jansen (2018) | External Affairs / Acquisition |
| Jelle Stegeman (2019) | External Affairs / Acquisition |
| Afke Reuvers (2020) | Promotion |