Student exchange committee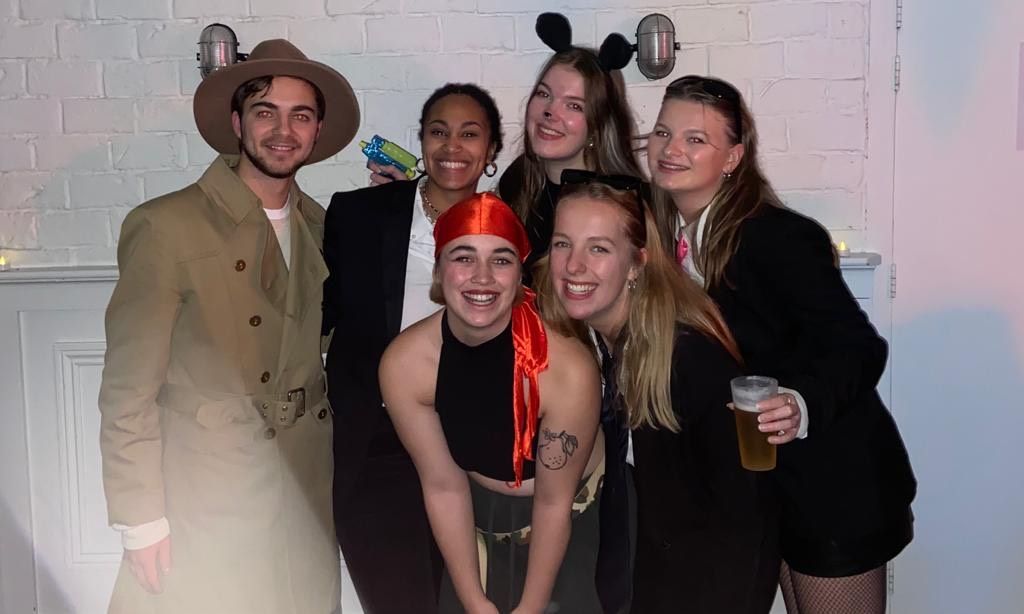 Welcome to our committee page! The name itself already describes what we will do this year: a (very fun) student exchange! We are very excited to be the ones organizing this amazing activity and we hope to see you all at the two unforgettable weeks that will come. Furthermore, we hope you have a great year at VIP! Now for our lovely members:

Femke Johanna Elisabeth van Dam, our number one, a person who doesn't know how to write her own name, the baby with the god complex, our chair. If you don't know Femke aka Johan yet, you should. But for the ones who don't: Femke has one special superpower. She can sleep EVERYWHERE. You should have seen her on holiday, once her butt touched the backseat of the car this girl was asleep. Also for anyone who doesn't know: after years of trying, Femke finally has her driver's license. Maybe you'll all stay inside from now on. Her new project is Surface, she's a surfer girl and really proud of it. So please, next time you see Johan, just do the surfer greeting and tell her to hang loose. She loves that.

What do you picture when you hear the phrase ''being a force of nature''? In this committee we think about our secretary Mary calling herself a force of nature while holding up a laptop, showing the powerpointslides of her CBGP (committee battle game plan). Although she is in her so-called 'grandma era' she will not back down from competition. (maybe this is why everyone seems to have an any on her??) Try it for yourself, and challenge her with a game of flunkyball when you meet her. As our secretary, Mary makes sure to write down all the important things we say during our meetings (which is a lot), while simultaneously expressing her undying love for our mascot Karel the cat.

Of course we can't forget our treasurer Nykyta. As the only boy in the committee he is stuck with the chaotic perfection that this group of girls provide. But don't be tricked, Nyky is just as bad. This dj loves his techno and the night is not complete without hearing 'Papa weg' from Vieze Asbak. He is very good in roasting people and his favourite word is 'balls' (no but honestly, say balls to him and he will laugh). Nevertheless, he is actually a very sweet guy and we are glad to have him as our treasurer. He's a great asset to our team and he has a lot of new ideas. Also, he's always there to help even when he's not responsible for the taks. Anyways, if you ever want to request someone's bak song; find this irish lad :)

Anna is the absolute legend responsible for external affairs. This means that her main responsibilities are emailing and keeping in contact with other universities. However, she often goes beyond her responsibilities and does not hesitate to volunteer to do additional tasks. Anna is very hardworking and knows how to get stuff done; she is also an outgoing and friendly person and will have a great conversation with anyone. Last year she was a member of the VIP board, therefore she knows a lot about the internal structure and how everything is organised. When it comes to drinks, tea seems to be her specialty. Anna will never stray away from gossip, and knows all the spiciest stories from VIP. The first time I was formally introduced to Anna, we were both drunk in a club sometime after 2 am. This is not an unlikely occurrence, especially if you are present at the social events. Anna loves a good ABBA song, especially 'Gimme Gimme Gimme', and she can absolutely nail 'the worm' dance. So far, it's really been a pleasure to be friends with and work with Anna, and I am really looking forward to having more committee dinners with her and going out and taking the city by storm after midnight. I think it's safe to say that the Student Exchange Committee just wouldn't be the same without her.

Next up is the woman responsible for our promotion: Eline! With the seccie as already her 4th committee within VIP, Eline has all the experience and knowledge and knows the association inside and out! Last year in the Yearbook committee she already proved to be super creative. You might have a sticker on your phone or laptop from the Yearbook sticker page? We can proudly say that those were designed by our creative queen! And not only that. If you see us running around in our amazing committee sweater, props to Eline for the design on the back! We are really happy with this creativity and know for sure she will make amazing promo for our exchange! Next to her artsy side, Eline also knows how to use her hips! When you see her in the city, don't be shy to approach her for a dance! But lill disclaimer, she is kinda tall, so she will probably be the one spinning you around till you are too dizzy to walk!

Last, but not least, is our dear Nymphe, who is in charge of acquisitions this year. Last year, she proved she can do a great job at this and easily reach the target (or even go beyond). With her creativity and enthusiasm, she can convince anyone to give us some money :) Nymphe is a very busy bee, so if you are trying to find her, it's best to check out a festival, Heymans where she teaches or a vintage clothing sale. It might be a bit difficult to spot her at first, since you can never know for sure what her hair is going to look like. Oh, and once you find her, she might suddenly have taken the 'rattentaxi' and is then nowhere to be found. But one thing is for sure, spending time with Nymphe is always a good time!
Student Exchange Committee 2023-2024
| | |
| --- | --- |
| Femke van Dam (2022) | Chair |
| Mariama Sibou Gibba (2022) | Secretary |
| Nykyta Puotkalis (2021) | Treasurer |
| Anna de Wind (2020) | External Affairs |
| Eline Vianen (2020) | Promotion |
| Nymphe Zwiers (2021) | Acquisition |
The student exchange committee organizes an exchange with students from another university in Europe every year. In past years, these exchanges have been organized with for example students from Budapest and Istanbul. The foreign students first come to Groningen for a week, and later in the year students from Groningen go to their city for a week as well. The committee is responsible for the program of this week. Examples of activities that have been organized are an afternoon of skating, a city tour through Groningen, a day in Amsterdam and sports in the Noorderplantsoen.
E-mail: seccie@vipsite.nl