Student exchange committee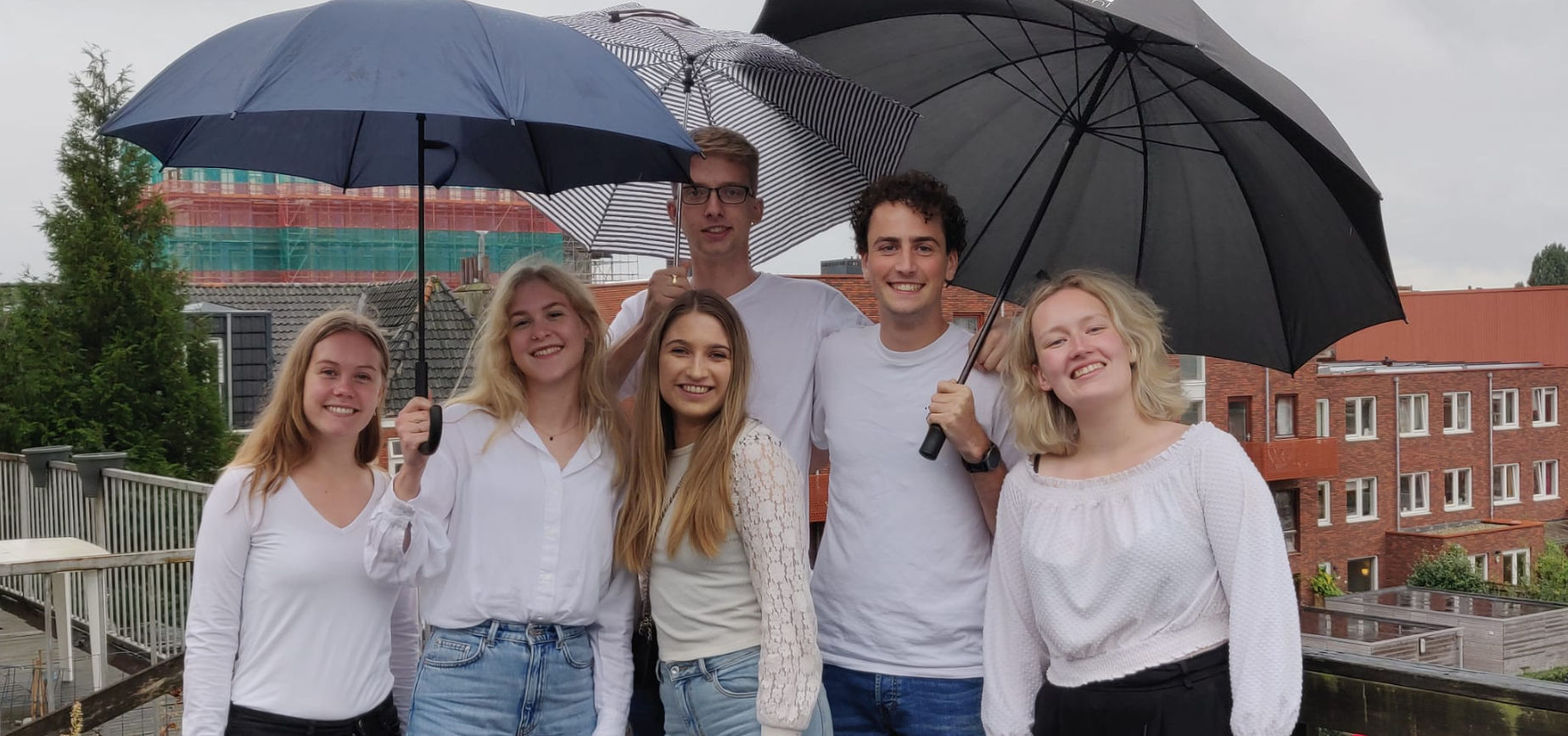 Welcome to our committee page! Here we will give you an introduction to our committee and its amazing members. The SECcie will organize an exchange to another university abroad. The foreign students will come to Groningen and we will visit their university as well. We are really looking forward to it and will work hard to make it the most fun, gezellige (cozy) and successful week.
First up is Stijn, the chair of our committee. He's always active and chatting with random people. If you don't know where he is, there is a good chance that you can find him on the tennis court. As the chair, he now needs to manage and control an amazing group to get the best exchange as possible. Now that he thinks about it, it might be the other way around...
Next up is Jildou, who is always busy with all sorts of things. She will always take care of everyone (even when she is drunk), but for now she mainly takes care of external affairs. She really likes to socialize, party and workout (it's called balance, right?).

Then we have Floris, our treasurer. After 4,5 years of being a cashier at Lidl, he is ready for a bigger responsibility: managing the financial assets of the SECcie. Floris is a huge fan of tap water and beer and is looking forward to boosting his Untapped check-ins during the exchange.
All of our chaotic conversations will be decoded by our secretary, Joyce. She lives at a place where no one knows the existence of, so we just call it Framboos. She works at the Lidl aka Laidel and can enjoy every Dutch party song, even when she's sober (which is not that often). She also likes acting and played in some ''amateur''; toneelstukkies.
Jasmijn will be in charge of the promotion. It won't come as a surprise that she likes to be creative in her spare time. She's good at thinking outside the box, but bad at managing time so every now and then she will be ''fashionably late'', except for when it's for something reaallly important ofcourse ;).
Last but not least is Levie, our acquisitioner. As much as she loves spending money, she makes sure it comes rolling back in. She is a very busy bee (mostly in her head though) and likes playing sports, but gets drawn from every sports association she wants to join. Almost as if it's a sign, right?
---
Student Exchange Committee 2021-2022
| | |
| --- | --- |
| Stijn Vermeulen (2020) | Chair |
| Joyce Kijlstra (2021) | Secretary |
| Floris Klaver (2020) | Treasurer |
| Jildou Peeters (2020) | External Affairs |
| Jasmijn Wieringa (2018) | Promotion |
| Levie Meijer (2020) | Acquisition |
The student exchange committee organizes an exchange with students from another university in Europe every year. In past years, these exchanges have been organized with for example students from Salamanca and Budapest. The foreign students first come to Groningen for a week, and later in the year students from Groningen go to their city for a week as well. The committee is responsible for the program of this week. Examples of activities that have been organized are an afternoon of skating, a city tour through Groningen, a day in Amsterdam and sports in the Noorderplantsoen.
E-mail: seccie@vipsite.nl