Student exchange committee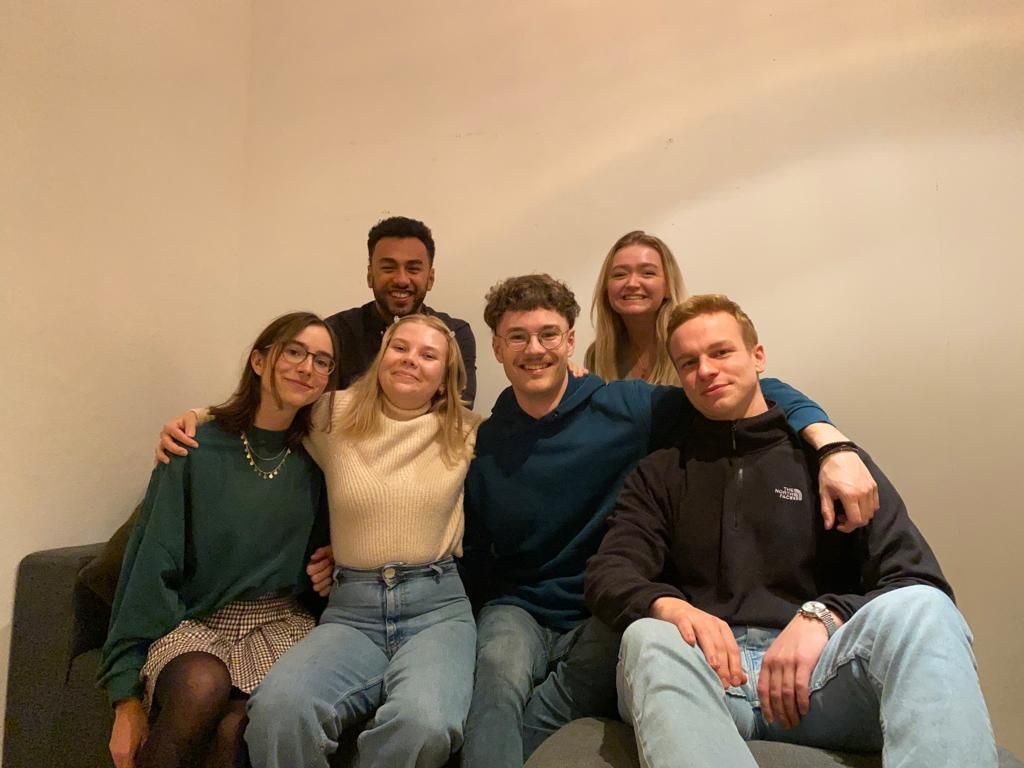 Hello!
We are the Student Exchange Committee (also SECcie) of 2022-23. As the name suggests, we will
organize a student exchange to a university of another country. Which country we will go to exactly
will be made public in early 2023, but we can promise it will be loads of fun! In the exchange, the
focus lies more on experiencing a different student culture rather than academic interaction,
however the exchange will be with other psychology students, so that, of course, will also be part of
the exchange. To give you a better Idea of who we are and what we do, we decided to write little bits
about each other, which you can read below.
Of course, our Chair will be mentioned first, so let's talk about Dieter (blue hoodie in the front row).
Early on, Dieter decided he wanted to be our Chair and we all agreed he is a suiting candidate for
that position. Being a jack of all traits, he keeps us together as a committee, oversees our progress
and reminds us to do our work should we forget that occasionally. If he isn't busy doing that, he is
most likely playing rugby, studying, or, who would have thought, drinking beer – pretty damn fast.
When not enjoying student life and being on the quest for finding the best beer in Groningen, Jan (to
the right of Dieter) is fulfilling his committee duties; overseeing promotion: designing logos, posters
and booklets or writing an introductory article for the website, for example. While not only being
sportive, he is also actively adapting to his new life in the Netherlands - so feel free to test his Dutch
skills if you see him around.
Pilvi (to the left of Dieter) is our secretary. Among other things, she is responsible for our e-mails and
for the documentation of our meetings. We can safely say that she is the best secretary we have ever
seen. Well, she is also the only one we have seen. Nevertheless, we are convinced that there is not a
single person out there who would do a better job! Pilvi's enthusiasm also carries over into other
areas of her life, such as the gym, where she is regularly making gainz. It's always great to have a
laugh with her during meetings, and she brings a relaxed vibe with her. We are all grateful to have
Pilvi on this committee and we look forward to spending more time with her throughout the year!
Next up is our hardworking external affairs, Natalia! (next to Pilvi) Her duties within the committee
consist of emailing and being in contact with potential universities we could organize our exchange
with. She is known within the committee for always bringing amazing snacks to the meetings and for
being an outgoing person. In her free time, she likes going partying and spending time with friends.
Then we have Mika (behind Pilvi and Natalia), our treasurer. Mika is always on top of things, just like
our money, since he is the one that has to manage all the financial resources. He knows how to pick a
good kind of wine or beer and is always in for a nice chat. Mika is not only about partying, he can also
be very serious if he has to be!
Last but not least and possibly with the most travel experience is Anne-Sofie (behind Dieter and Jan),
our acquisitioner. As a child she aspired to be a flight attendant just like her mom. When she grew
older, she however decided to study psychology, but her love for traveling stayed. This is the reason
she fits perfectly in our exchange committee even though we always lose her out of her site during
the VIP drinks.
Any Questions? Please let us know and feel free toapproach us if you see any of us around the
faculty, or write us an email at seccie@vipsite.nl .
So, that's us. We all look forward to going on the exchange with you!
See you around!
---
Student Exchange Committee 2022-2023
| | |
| --- | --- |
| Dieter van Till (2021) | Chair |
| Pilvi K Kupiainen (2020) | Secretary |
| Mika Kanana (2020) | Treasurer |
| Natalia Sange (2021) | External Affairs |
| Anne Sofie Mateboer (2022) | Acquisition |
| Jan Niklas Bethe (2022) | Promotion |
The student exchange committee organizes an exchange with students from another university in Europe every year. In past years, these exchanges have been organized with for example students from Budapest and Istanbul. The foreign students first come to Groningen for a week, and later in the year students from Groningen go to their city for a week as well. The committee is responsible for the program of this week. Examples of activities that have been organized are an afternoon of skating, a city tour through Groningen, a day in Amsterdam and sports in the Noorderplantsoen.
E-mail: seccie@vipsite.nl