Yearbook committee
Yearbook committee​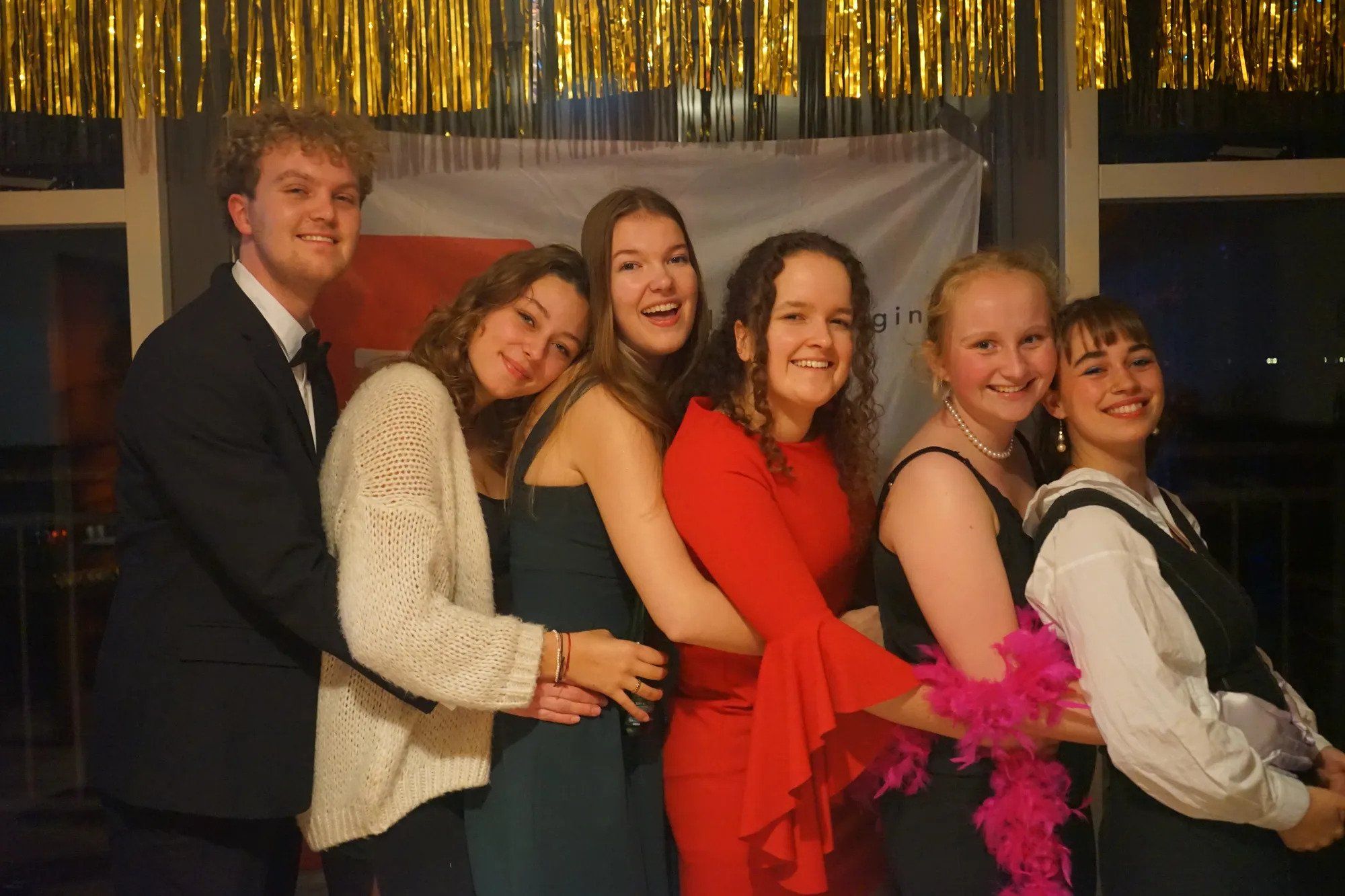 Hellooooo people! We are the yearbook committee of 2022-2023. Let's introduce ourselves!
Eline
First we have Eline, she is the chair of the committee. She already has a lot of experience,
because she was last year's chair in the dies committee. She is the backbone of our committee.
She leads our meetings exceptionally, but still we do not always meet our deadlines. Eline, if
you do not already know, has a wild side. She is the first one out of the meeting, and the first
one on the dance floor. With her urban dance moves, she is unstoppable and the best dancer of
the committee. She also has a very long list of different flavors, this is open for interpretation. If
you want to get to know her more, you can find her at 5 am in the silent disco.
Merel
Next up is your lovely secretary Merel, she types faster than her shadow. She also has a really
good memory, she does not need the minutes she makes and does this only for us, because
she remembers them all. Merel is also our Sherlock Holmes. If you want to know something
about a person, she can find everything in a matter of seconds. So be aware! She is really
committed to this committee, she travels every Thursday from Rutten to Groningen and back
with the bus, respect! One obvious fact is that she loves beer, but unfortunately she is in a wine
committee. If you want to get to know her more, give her free beer and she is instantly your best
friend.
Kiki
Meet our feut Kiki. She is responsible for our money and has to be good with numbers. She
rocked her last statistics exam, so we think she will be fine as treasurer. Her romantic life is a
whole different story, this is often the reason she sends crying photos in her designated crying
sweater. Kiki is our Dora the explorer, because she has seen a lot of the world. She travels only
by foot, so she is always late to the party. If you want to get to know her more, ask her about her
journey and her face lights up instantly.
"Kiki is the light of our committee. Our beacon of light in the darkness. Our holy mary." - Kiki
Tullekens
Bernau
Our Bernau is a very committed committee member… to her padel committee. We always start
our meetings later because of her padel trainings, but still she is the first one to arrive. She's full
of laughs, especially when laughing at her own jokes HAHAHHAHAAH. As our external affairs,
she's already homies with the people at the Perfect Book. She's always cheerful and keeps us
on our toes for the deadlines. Not only is she a warrior on the bike, she will also take down
anyone who stands in the way of winning the committee battle; so watch out ;) If you want to get
to know her more, buy her a tequila shot (or more) at sunny beach and she will be your bestest
homie <3
Nymphe
Our free spirit Nymphe is responsible for the acquisition. Our social butterfly knows a thing or
two about convincing people to give money. She is our only real vegetarian, and because of that
we can not eat meat on our committee night. She makes us better people, and is a true
inspiration with her good vibes. But do not believe everything she tells you, because she will tell
facts that are not true, conspiracy theorist? If you want to get to know her more, ask how her
parents met and you will hear all about her interesting background.
Wyncko
Last but not least, the only man in our committee: Wyncko. More commonly known as
WINEcko, because he always finishes the wine bottle on our committee night. He is our
promoguy and also our grandpa. He already suffers from dementia, poor guy. He never
remembers the people he meets, and we have to tell our stories several times because he does
not pay attention. But luckily, his creativity does not suffer under this condition. Wyncko made
an awesome design for our committee sweater. If you want to get to know him more, make sure
he will remember you first and wear a name tag.
Yearbook Committee 2022-2023
| | |
| --- | --- |
| Eline Vianen (2020) | Chair |
| Merel Cats (2020) | Secretary |
| Kiki Tulleken (2022) | Treasurer |
| Bernau Dijkstra (2020) | External Affairs |
| Nymphe Zwiers (2021) | Acquisition |
| Wyncko Jaap Alberts Roozeboom (2021) | Promotion |
The Yearbook committee makes the yearbook of VIP. In this yearbook you can find photos of the activities of the past year, and a written piece from each committee of VIP. The brother and sister associations of VIP write a piece for the yearbook as well, and there is an overview of the events of the past year. The committee also makes the acmanac, the yearbook for active members. In it, you can find the contact information of the members and photos of everyone who is in a committee, structure or year representation that year.
E-mail: yearbook@vipsite.nl