Social committee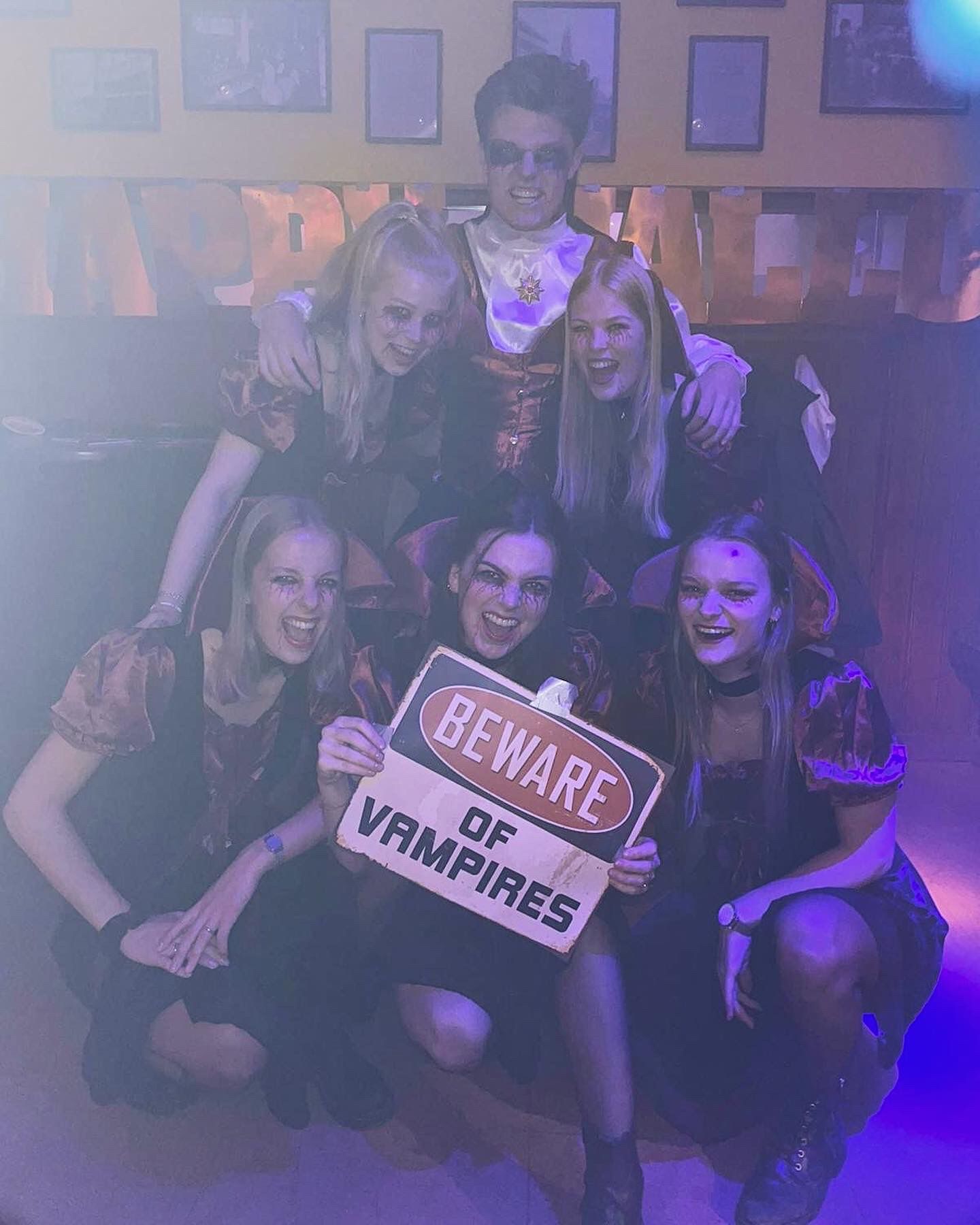 As the social committee, of course we like partying a lot. That's why we want to take you to Carnival with us. Because that is not to be missed with two committee members from Twente! Kats fun! Our day starts at 11.11 in the beautiful Geesteren where Stan and Diede follow along in the parade. Stan is in front with his music, but you have to look closely, this time he is not recognizable by his Formula 1 cap! When the parade is over, Stan dresses up as a bottle of his favorite beer: Grolsch. He already consists of 80% of beer anyway. But we have to be careful that he doesn't drink too much when it's time for him to collect money, because he is responsible for our acquisition.
Diede also participates in the parade. She is dressed as a 'kroegtijger', which suits her well because she can often be found in the pub and she is also a bit of a tiger. She throws in some of her natural charm and is on her way to win 'the Hertenbokaal'. Also this Carnival Diedes motto is: you have to keep money moving. Be careful Diddle, a hole in your pockets is not very convenient for a treasurer.

The rest of the committee is cheering on the sidelines of the parade. With Fiona as the biggest supporter, she's always so excited when she's drunk. Fiona, you probably already guessed it, is dressed as princess… Belle! (haha, we got you there right). Suddenly we lost her and see her running around in her princess dress handing out VIP posters for our next event. Fioon, we are in Twente?? But we love your dedication for promotion.
Next we have Anna, dressed as a sexy secretary. This of course suits her function and we immediately can score points for the committee battle. When she has had too much to drink we have to be careful that she isn't going to talk too much honest nonsense. And before we know we lost her and she is looking for… Annie, a sigaret doesn't look very good with such a nice suit. You should have left 'rokert Joke' at home.
Renske still needs to find her way. She preferred bringing us with her to the 'Sneekweek' but Carnival is also fun and social makes everything a party anyway! As our chairwoman, you have to be able to drink a bit of course and luckily Renkse trained well on that lately. Although you still have to catch up with your adtje speech, you won't slip out so easily this time. Renske is dressed as a soccer player because she also plays at the Knickerbockers, well plays.. Maybe this is her attempt to keep up appearances.
Last but not least we have Hanna. At the end of the evening she has the busiest task again. As 'memmie' of our group she always ensures that we get home safely, so also this Carnival. She is dressed as a Bacardi Lemon bottle, obviously because of her favourite song 'ik ga zwemmen'. As our external affairs, she has her facts straight. She will make some good deals with the hottest bartenders from Groningen and attract all the 'foute bekjes'. Go for it Han! That's how you beat Diede with the 'Hertenbokaal'!
---
Social Committee 2021-2022
| | |
| --- | --- |
| Renske Boomsma (2020) | Chair |
| Anna de Wind (2020) | Secretary |
| Diede Velthuis (2021) | Treasurer |
| Stan Velthuis (2021) | Acquisition |
| Hanna Klaassens (2020) | External Affairs |
| Fiona Rienstra (2019) | Promotion |
The Social Committee organizes 3 big parties and one big social activity throughout the year. The parties take place at different places and there is always a crazy theme. Everyone gets dressed up! These are the moments to bond and make memories with all your fellow members
E-mail: socialcommittee@vipsite.nl