Belsimpel
BELSIMPEL
Are you a student and do you want to combine your student life with a great job? Then Belsimpel has a unique opportunity for you!
Join the (German) Customer Service Team at Belsimpel as a Customer Service Specialist German or join the Dutch team as a Specialist Klantenservice!
As a Customer Service Specialist, you will not only be part of our Groningen-based company, you will also be part of our internationalization. Do you like to go the extra mile to offer our German customers the very best solution? Your time at the Customer Service Desk will consist of varying tasks, whereby you can plan your hours from 09:00 to 00:00 and from Monday to the weekend! Belsimpel offers good supervision, but we are also open to your ideas. You will be part of a nice team with international and Dutch students. All you have to do is send in your application!
Ben jij op zoek naar een bijbaan en wil je aan de bak in hartje Groningen? Dan is werken in Team Klantenservice, Team Abonnementen of Team Verzenden & Bezorgen bij Belsimpel dé kans om het studentenleven te combineren met het ontwikkelen van waardevolle skills en tegelijkertijd leuk bij te verdienen. Werken bij Belsimpel komt met een heleboel gezellige collega's van jouw leeftijd, veel leuke (team)uitjes én toekomstperspectief, want er zijn volop doorgroeimogelijkheden tijdens en na je studie. Afhankelijk van de functie kun je 7 dagen per week van 's ochtends vroeg tot 's avonds laat werken (07:00-23:59): lekker flexibel inplannen dus. Ben je op zoek naar een fulltime baan? Bekijk dan bijvoorbeeld ook eens het (pre-) Management Traineeship bij Belsimpel: de perfecte uitdaging om je carrière een kickstart te geven! Kijk op www.werkenbijbelsimpel.nl voor alle informatie, want er is nog veel meer!

For more information, you can click on the posts below!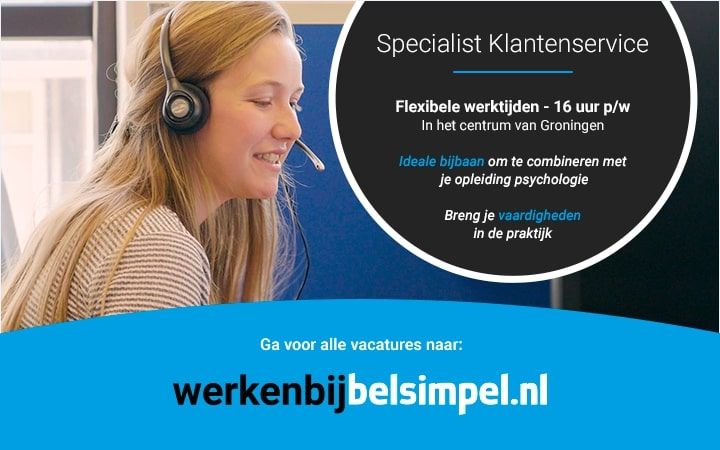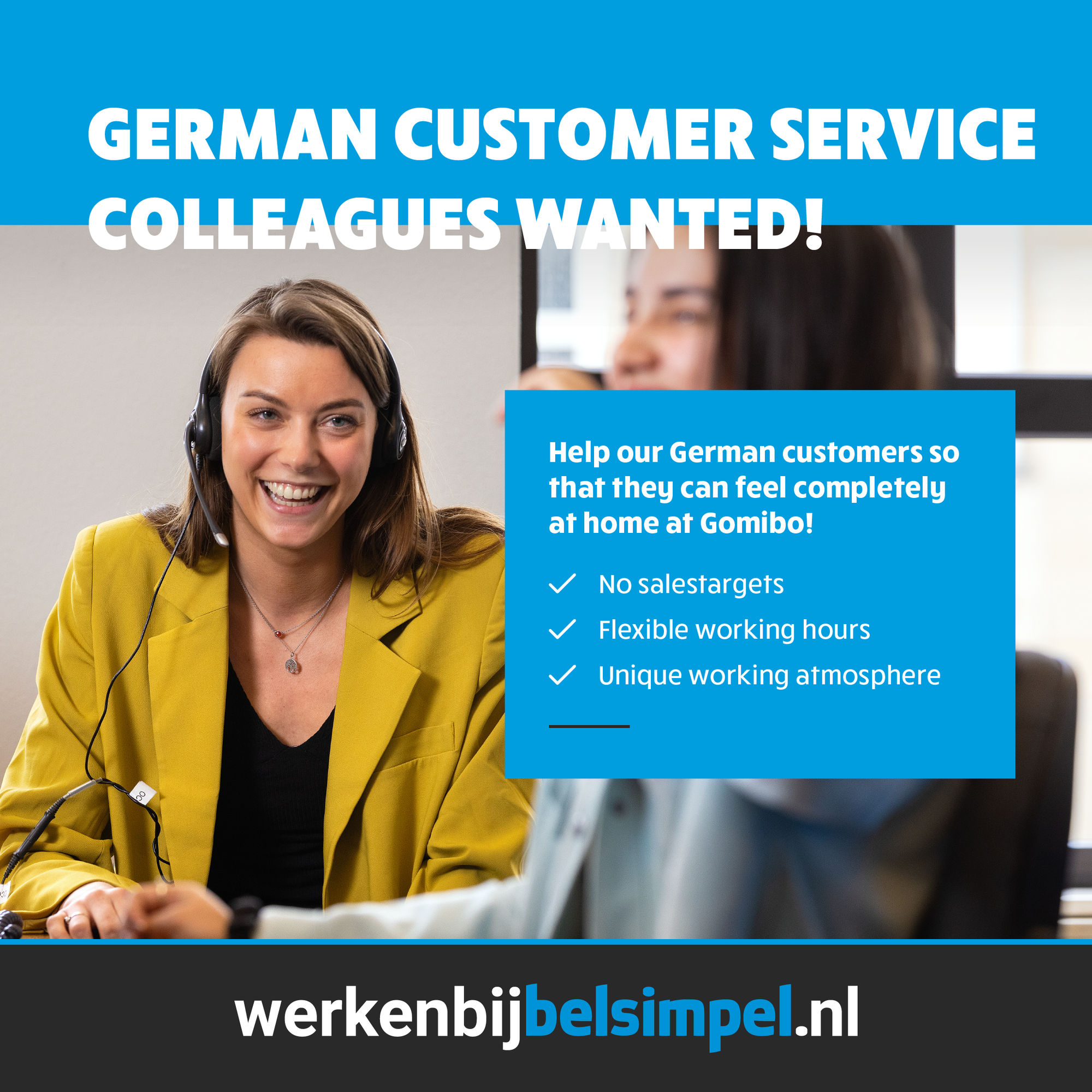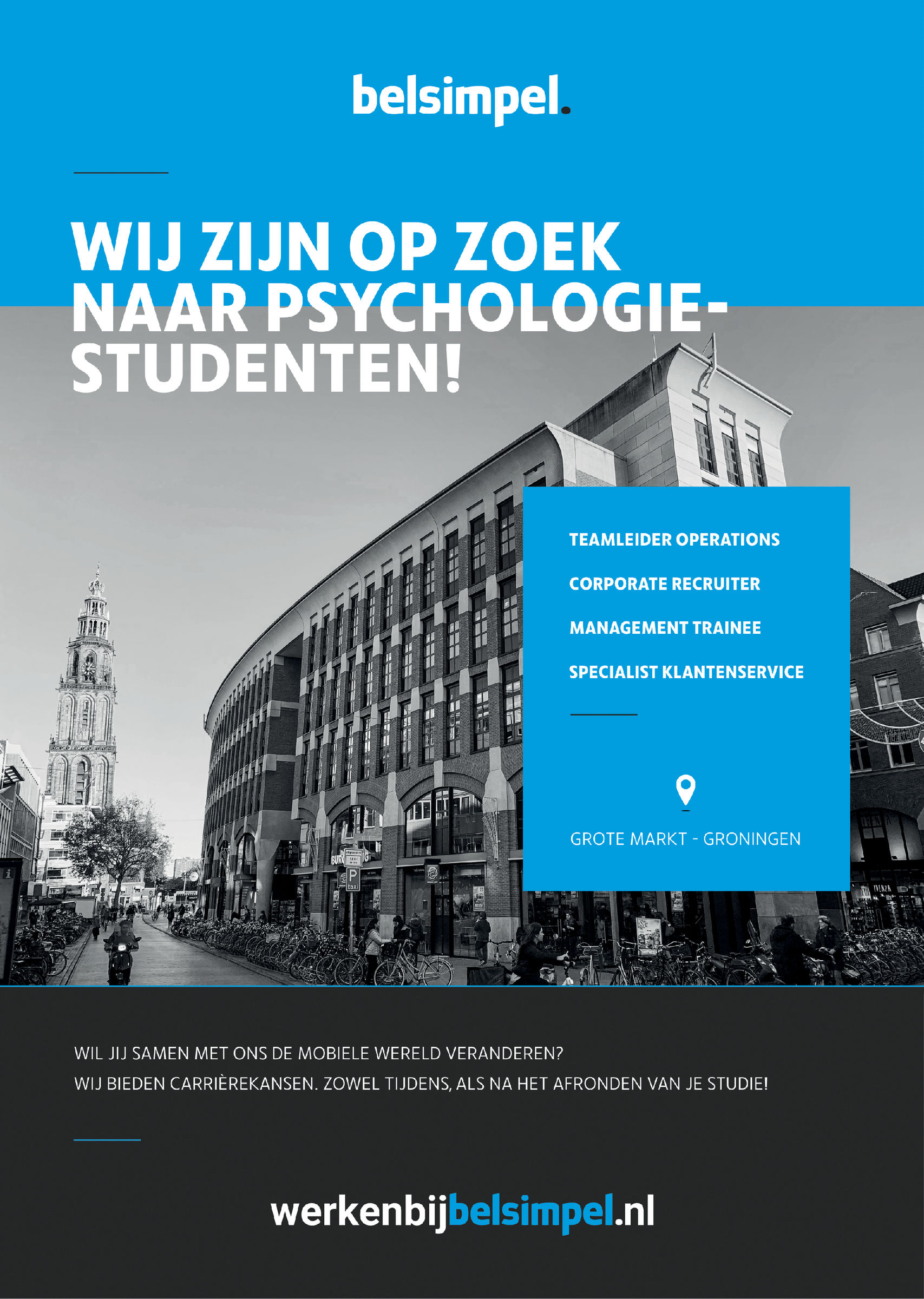 Gomibo Group is the umbrella name for the brands Belsimpel, Gomibo, Verifai, Tulip Assist, and Gomibo SaaS (Software as a Service). Together, they have one mission: to improve accessibility to the digital world for everyone.
Belsimpel was established in 2006 by Jeroen Doorenbos & Jeroen Elkhuizen, who were students at the Rijksuniversiteit of Groningen at the time. The telecom market was a chaotic industry, with a focus on targets instead of the customer. Jeroen and Jeroen decided to change the mobile world by putting the customer first with a platform where you can easily find what suits you best: Belsimpel. Now, they are operating internationally in 30 European countries under the name Gomibo.
By constantly wanting to improve every aspect, they continually raised the bar in the competitive market. To this day, our innovative drive has not changed. By always thinking about how something can be improved or simplified, we keep evolving and our organisation grows every day. Today, we work hard every day to provide easy access to the digital world. All the different Gomibo Group brands were also created with this goal in mind.
We now have more than 700 passionate colleagues who are all eager to go that extra mile and embrace change, allowing us to make the digital world accessible to everyone. Problems are solved at the root and the best idea counts, whether it comes from someone working part-time or from someone who has been with Belsimpel for 10 years.
Do you want to celebrate successes together and grow as fast as the company? Then take a quick look at http://www.werkenbijbelsimpel.nl/. From flexible to study-related part-time jobs, internships, traineeships, and challenging starter positions within virtually any field: you'll find it right in the heart of Groningen's Grote Markt.
Psychology students within Belsimpel | The Gomibo Group
You might not directly expect it, but many of the skills that you gain during your studies can be used in practice at Belsimpel. Think of the further development of conversational skills, applying your people skills, and critical thinking about the processes on the area of talent development, HR, or Change Management. Start working at our Customer Service during your studies, or start with our Management Traineeship after finishing your studies. Also, within our Recruitment and Selection team, you can work both part-time and full-time, being fully involved with recruiting and selecting talent.
The area of expertise regarding work disability particularly suit our environment, but we are open to all areas within Psychology.
Do you want to celebrate successes together in a team, and would you like to develop yourself? If so, take a look at www.werkenbijbelsimpel.nl. From flexible to study-related jobs, internships, traineeships, and challenging entry-level jobs within nearly every field: you can find it directly next to the Grote Markt.