Sport committee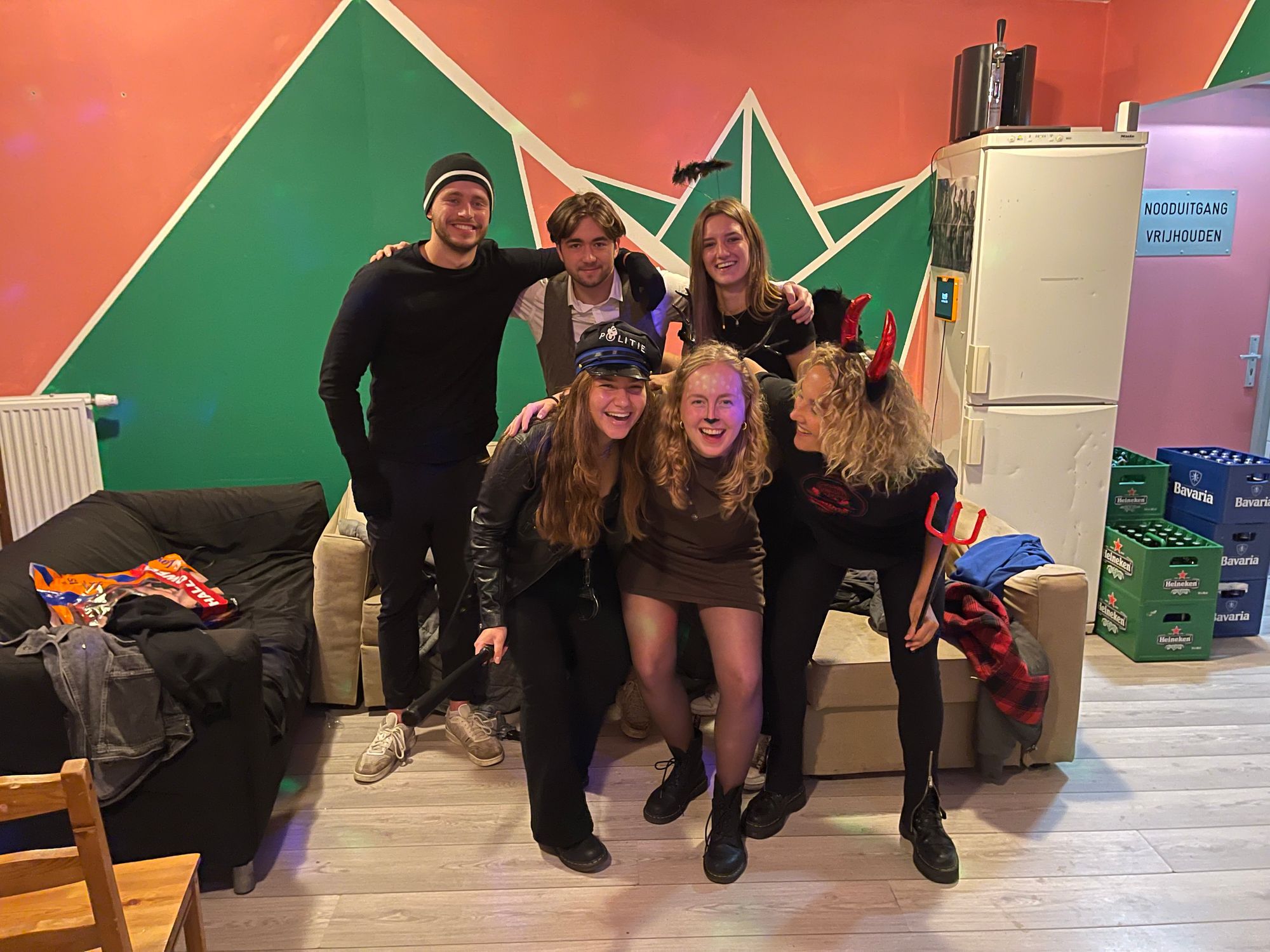 Whatssup! We are your SpoCo for this year!
Marije
Our chairwoman this year is Marije, our führer. With qualities such as planning, leading, and drinking, she is very suitable for this position. And the last one is no joke, when all the serious things are done Marije is the first one to grab the beerpull and make the evening a good one. With a real male alter ego called "Markie" she knows how to be with all kinds of people. With all these qualities we know Marije is gonna be a perfect Chairwoman for this Spoco and will bring us lots of fun on the ski trip. Wahed bieri Markie?
Lian
Lian is this year our treasurer, our money wolf. She's also the grandmother of the group. With her 23 years old she is officially elderly. But don't say this to her because she will look you dead in the eye and say, "you are as old as you feel" or "age is just a number!", yeah right grandmother. But she is in control of our money, so we are going to end this on a happy note. Lian, we of Spoco are very happy that you wanted to join our committee. You are a very spontaneous, happy girl who is always looking for a fun time. Good luck with the money this year and Cheers!
Anne
Annemieke or Anne is our extern this year. A function where you must be good at communicating with people on the phone or email. A characteristic Anne must have because she lives like 33 km away from the center of Groningen. So being quick in giving online responses must be one of Anne's best personality traits since she started studying in Groningen. All jokes aside Anne, can we have one meeting this year at yours? We're all interested to see how you live in that small village called Beijum. Anne, you're a social, funny, and serious girl (when you have to be) so this function will fit you well, we believe. Good luck with contacting HUSK 24/7 this year and chanté!
Frank
Frank a.k.a. Frenkie is our secretary this year. A function where you don't have to do a lot and don't have to excel (Frenkie thinks). Perfect for our Frenkie. For the people who don't know Frenk, when asked to introduce himself with an alcoholic drink he said that he would be water. Yeah that's right ladies and gentleman, no special beer, no liquor but just plain water. How did you manage to get in the Spoco again? No again, all jokes aside, Frenk you're the perfect man for this difficult and challenging function and we think you'll smash it. Good luck and litertje in Avoriaz?
Dorien
Dorien is our acquisition this year. For this function, you'll need to be, again, social but also responsible and straightforward. You have shown that you own that last characteristic by making no exceptions with (drinking) games where other people are struggling. Some people might feel bad for seeing others struggle, but Dorien does not. She is so straightforward that she forces the struggling person to go on with the game. So that's one characteristic she's got, but if we're talking about responsibility? ;) All jokes aside, Dorien we think that your sociality, feeling for responsibility and straightforwardness will make you perfect for this function. Good luck with one of the most difficult functions we have in the Spoco and... bussen in the Yetibar?
Stijn
And last but not least, Stijn a.k.a. Stinna: our promotion guy. First, he wanted to be extern. But because of a silly mistake he was no longer in the running. All he needed to do was send an email to Husk, but that was even too hard because he sent the email to our own chair. But you are a very driven guy and always want to win. You won't accept any help (and definitely not with 'bussen' ;)). You're very caring: when someone is already a bit too drunk and has to drink more beer, you will drink half of it, without telling anyone. We always have a good time when you're around, your enthusiasm affects all of us. The first promotion looked awesome Stinna! Cheers!
---
Sports Committee 2021-2022
| | |
| --- | --- |
| Marije Krakau de Jong (2020) | Chair |
| Dorien Lekkerkerk (2020) | Acquisition |
| Stijn Bernd Rian Lohuis (2019) | Promotion |
| Lian Reit (2020) | Treasurer |
| Annemieke Steman (2020) | External Affairs |
| Frank Weishaupt (2019) | Secretary |
The Sport Committee organises two events. A skiing trip taking place in februari in Risoul. The trip will last 7 days in which you can ski/ board all you want. The second event is a soccer competition in which we will compete against other faculties. The committee will make sure that there is accommodation provided at the skiing trip and that there are ski-passes available for everyone.