Teddy Bear Hospital
Teddy Bear Hospital
*This vacancy is in Dutch*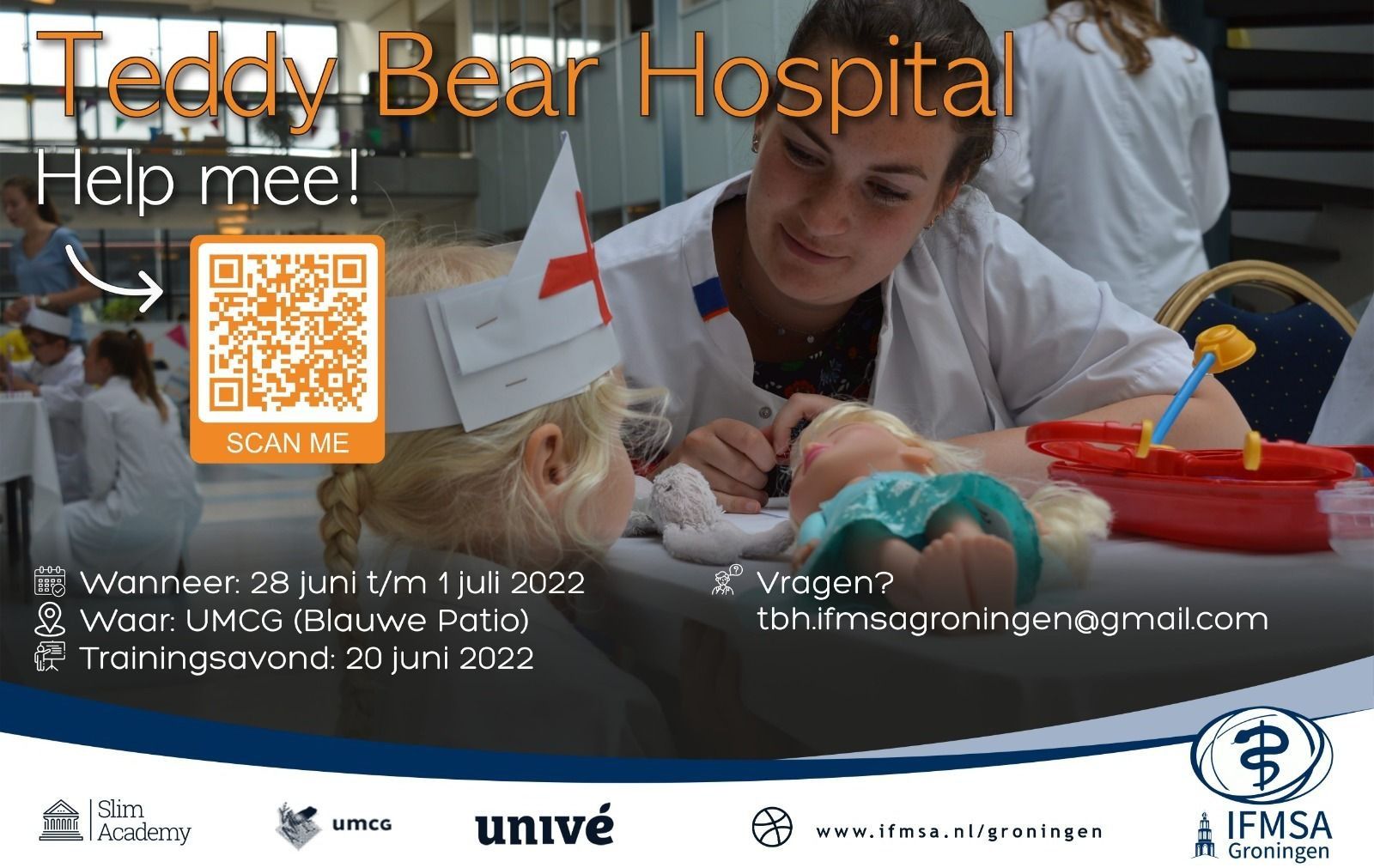 STUDENTEN GEZOCHT VOOR TEDDY BEAR HOSPITAL
We zijn op zoek naar studenten die ons één of meerdere dagdelen willen helpen bij het Teddy Bear
Hospital!


Tijdens het Teddy Bear Hospital laat je het ziekenhuis op kleine schaal zien aan basisschoolkinderen,
om zo angst voor dokters en het ziekenhuis te verminderen.


Lijkt het jou leuk om zieke knuffels van kinderen beter te maken, door bijvoorbeeld medicatie te
geven of een röntgenfoto te maken?


Lees dan snel verder!


Wat ga je doen:
Zieke knuffels van de kinderen beter maken, bijvoorbeeld in de rol van huisarts, chirurg, apotheker of
tandarts.
Daarnaast zoeken we ook mensen die foto's gaan maken, in het berenpak willen, ranja uit gaan delen
en de diploma's uitreiken.


Waar en wanneer:
28 juni t/m 1 juli bij de blauwe patio in het UMCG. Je kunt zelf aangeven op welke dagen of welk
dagdeel je beschikbaar bent!


Extra info:
Op 20 juni om 20.00 uur organiseren we een trainingsavond om je klaar te stomen voor het Teddy
Bear Hospital.


Enthousiast??
Meld je aan via de link!
https://forms.gle/r8gLjNDbfmR4E7C67