Jaarvertegenwoordiging 2
Jaarvertegenwoordiging 2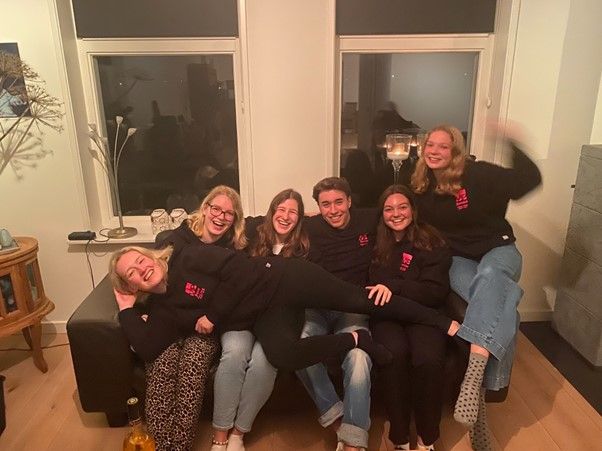 The Dutch year representation for second year students consists of five students from the same year. The year represantation is co-responsible for the improvement of the quality of the study. They do this by keeping track of how fellow students think about the courses, the lectures, and exams. The year representatives write a report about what students think about a course. They get this information by talking to as many students as possible and keeping their opinion in mind. furthermore deliberate with the program committee, the faculty board, the faculty council and the program director about good and improvable points of the study.
E-mail: jv2@vipsite.nl
Jaarvertegenwoordiging 2 2022-2023
| | |
| --- | --- |
| Willemijn Felen (2021) | - |
| Kevin Potgieter (2021) | - |
| Anne Lucia Voogd (2021) | - |
| Annick Bouma (2021) | - |
| Joyce Kijlstra (2021) | - |
| Bettine van der Ploeg (2021) | - |
Hello everybody!! This year we will represent the second year of the Dutch track! We are very excited to talk to you guys about the different courses we're gonna take and we'll also talk with the professors and give them feedback you're gonna give us. We will shortly introduce ourselves below, so you kinda have an idea who we are and always feel free to come talk to us about "tips and tops", questions and opinions you might have regarding our education!
Greetings,
Joyce, Annick, Kevin, Bettine, Lucie en Willemijn
Joyce:
My name is Joyce and I am 22 years old. Besides psychology and pedagogical sciences, I like to skate, fitness and watch a good horror. I always say that I can chug beers very fast, but the sad truth is.. even a baby can drink his bottle of milk faster ;(
Annick:
My name is Annick, I am 19 years old. Besides studying psychology I like to do fitness and I like to sing a lot too. I like a party but lately drinking is not my biggest hobby, so you won't often find me doing any type of shot. (If you do, you get a sticker from me)
Kevin:
My name is Kevin and I'm 20 years old. In my spare time I like to hang out with friends and I also occasionally love to cook for them. One of my favorite things to do besides this is traveling and learning about new cultures. I also like to go out and party in Groningen. I'm not the best at chugging, but if you'd like to see me try you can always buy me a beer! :)
Bettine:
My name is Bettine and I'm 20 years old. Just like in the RUG, you can find me in the Basic Fit pretty much everyday. I also travel the world to perform with my band. We play music, while riding bicycles. Don't believe me? Look it up ;)
Lucie:
Hey! My name is Lucie and I'm 20 years old. I like to sail when the weather is nice. I play hockey. I also run and go to the gym. I like to party, but I'm really bad at doing tequila shots.
Willemijn:
Hey guys, I'm Willemijn and I'm 19 years old. In my free time I like to watch movies, read books and go partying every now and then ;). My best quality is keeping a poker face while doing shots, so if you feel like you can do it better than me; challenge accepted!