First year committee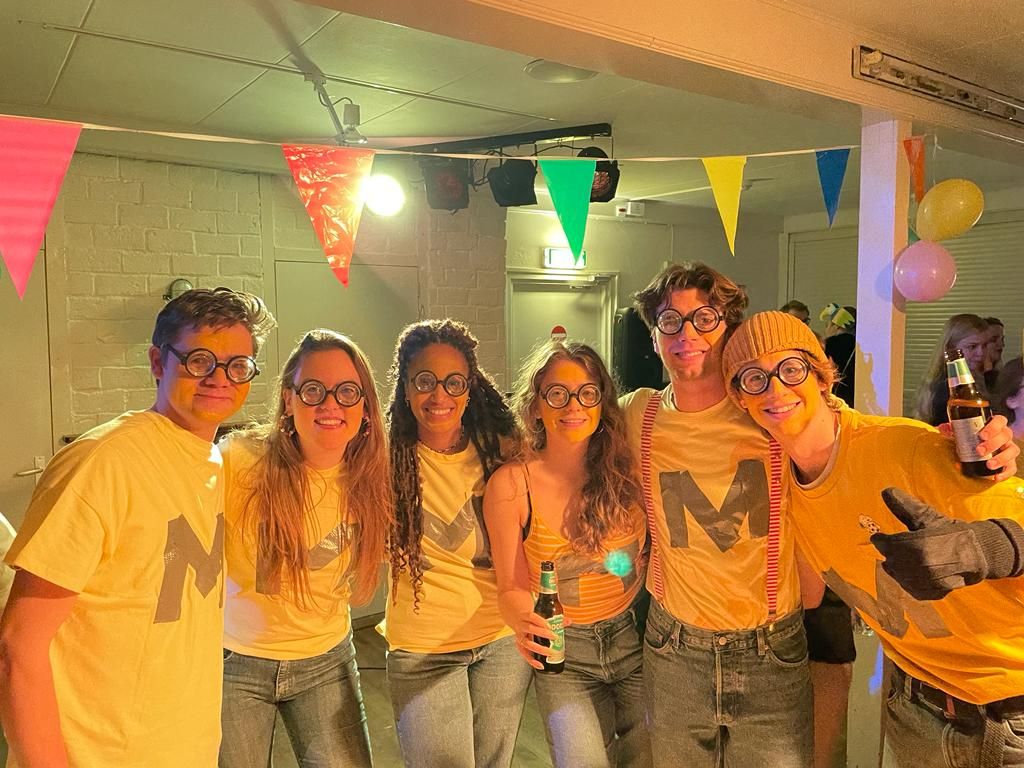 We are Michel, Mary, Luuk, Nicole, Mads and Milou and we are the first year committee or
just the minions of the board. We organize parties and activities for the first year.
Michel is our chair and organizes our meetings. He ensures that everyone at our meetings
feels comfortable and always has a full glass in their hand. Michel's favorite word is monkey,
which he keeps saying over and over again, which drives us insane.
Mary is our secretary. She organizes our emails and takes notes during our meetings so none
of our brilliant ideas are lost. Mary has two bad habits, the first being that she always leaves
without saying goodbye and having a crazy love for the song "Nooderplantsoon". Which
leads to her even playing it at 5am as a bedtime song for everyone.
Luuk is the numbers man. He is our treasurer and takes care of everything related to money
and budget. He seems to be the nicest person in the first few plays. But to us, he's always
mean and sarcastic.
Nicole is the creative part. She promotes our events because she is our promotion. She is
also the sustainability person. Which is funny because she's the least sustainable person on
our committee. Nicoles downside is that she is obsessed with Milou's mother. Moreover,
what makes us very sad about Nicole is that she doesn't want to wear our committee clothes
when clubbing because it's not slutty enough.
Mads and Milou are our external affairs. They are contacting companies and looking for a
venue. That is the most important task because the whole committee is based on it and we
would be nowhere without our externals. Who claims that? Milou and Mads claim and
mention it every chance they get.
Mads is the group's golden retriever. That's why no one would ever dare say that Mads has a
bad habit. However, some would say that Mads´ worst habit is that he always lets Michel
talk him into less than ideal situations.
Milou's bad habit is that when she's talking to Michel or Mary in Dutch and they don't
understand, she just repeats it louder. Also, Milou has a second personality named Amy.
Pray you never meet Amy.

First Year Committee 2022-2023
| | |
| --- | --- |
| Michelangelo Warda (2022) | Chair |
| Mariama Sibou Gibba (2022) | Secretary |
| Luuk Holterman (2022) | Treasurer |
| Mads Boer (2022) | External Affairs |
| Milou Fortuin (2022) | External Affairs |
| Nicole Smit (2022) | Promotion |
The first year committee is one of the youngest committees of VIP and consists of six first year students. The committee organizes activities for first year students so that they will be able to get to know each other better. The committee will think of creative new activities. Last year there was a pubquiz, game night and a lunch. The first year committee will come in contact with the owners of the locations and will do all the preperation for the activities.
E-mail: fyc@vipsite.nl