Lecture Committee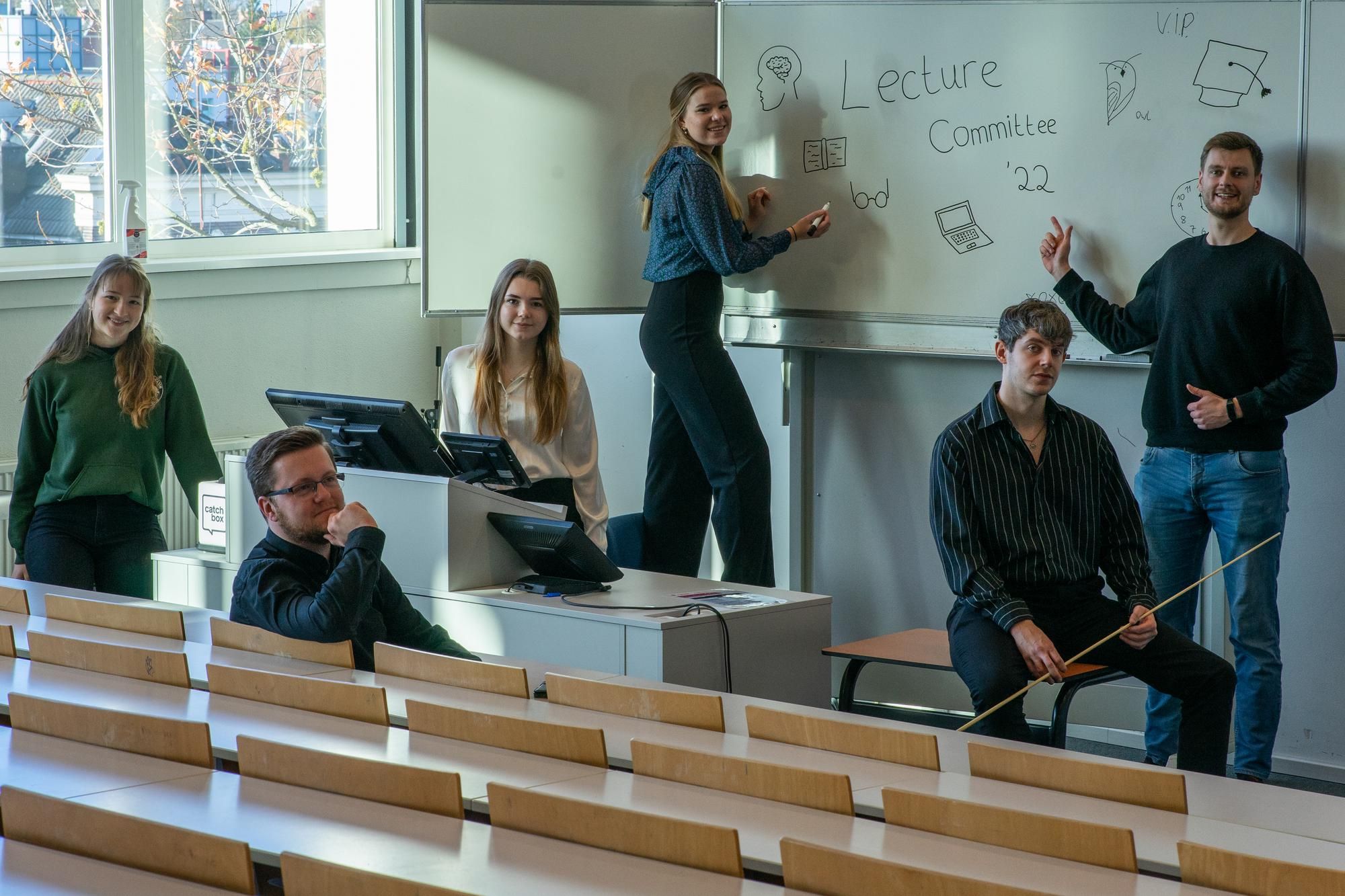 Hello everyone!
We are the Lecture Committee of 2022-2023 and we are proud to tell you that we're organizing this
year's lectures. Our job is to contact speakers and experts about interesting topics. We try to find the
most amazing and unique places to host lectures, make kick-ass promotion posters and fit everything in
our budget.
First we would like to introduce you to the Chair of our Committee, Willem. Willem is an absolute
specimen of a man (2m+) with an even bigger heart. Even though Willem has been tall most of his life, he
still hits his head on things daily. Willem used to do archery, and when pulling back the bow string, the
arrows would fall off because they were too short. Willem and Jasper sometimes go hard in the gym,
motivating the hell out of each other. Willem is notoriously relaxed and therefore able to lead our
committee towards the right direction in a chill way. Our chair's secret talent is that he's exceptionally
good in remembering faces. He can recognize people he met 12 years ago in an instance.
About Bert; He's always secretly jamming to music and also has a great music taste! Bert is a very loyal
and intelligent individual and we all respect him for that. We are all pleasantly surprised with Bert's ideas
and insights on committee nights. Not actually surprising, because Bert likes to read and if any one of us
would play Slimste mens and win, it would be Bert. What he doesn't like is open water, not being able to
see the bottom of whatever water he is in. However, Bert does find the ocean interesting, so who knows
what the future holds. Exposure is a thing.
We can't name one external without mentioning the other, therefore we would like to introduce you to
Suzanne and Iris! Iris is the youngest of our group at 18 years of age. She has an obsession with
Christmas lights and her eyes glow up like Christmas balls walking down the Herestraat. She also decided
to join sign up for Mayday without ever setting foot on a sailboat before and we are all afraid for our
lives if we ever decide to join her one time. Iris is also very calm and relaxed and I believe we have yet to
see her crazy side…
Then there is Suzanne. She loves to cook but she is always afraid the people she cooks for will not like
her food. A very compassionate person which sometimes doesn't turn out in her favor. But that's okay,
because we are all looking out for her. Suzanne is also quite relaxed, unless she has had a couple glasses
of wine. Then she turns into a menace and we are sometimes a bit afraid of her.
All the way from Lüneberg Germany, we want to introduce you to Jarla. Jarla is our secretary, which
basically means she is the living heart of our group. Using her organizational skills, she makes sure we
stay on track, don't forget anything and keep our stuff together. Just like Willem, Jarla has a big heart.
Her cozy and warm hugs brighten up your day and she did a lot of voluntary work in Cape town. One
random fact about Jarla is that she likes to warm up her ice cream in the microwave… Make of that what
you want…
Jasper is the creative one! He is responsible for the promotion and always keeps up the spirits of our
group. He is very resilient so if you knock him down, he will always find a way to get back up. He has
many talents: he is good at painting very small miniatures and in forgetting his glasses even though he
has terrible vision. Jasper used to be an editor for a Youtuber until that guy started dating his sister - so
that didn´t work out for him so well.
That about sums it up. We look forward to meeting you during one of VIP's activities and maybe even
one of our lectures!
---
Lecture Committee 2022-2023
| | |
| --- | --- |
| Willem Kempinga (2020) | Chair |
| Jarla Busse (2020) | Secretary |
| Bert van der Leest (2022) | Treasurer |
| suzanne fietje (2021) | External Affairs |
| Iris te Brummelstroete (2022) | External Affairs |
| Jasper Boerma (2019) | Promotion |
Throughout the year, the Lecture Committee organises different lectures with very interesting psychology-related topics. These lectures are held by an expert from his/her field.
Email: lecturecommittee@vipsite.nl