Career committee
Career committee
Career Committee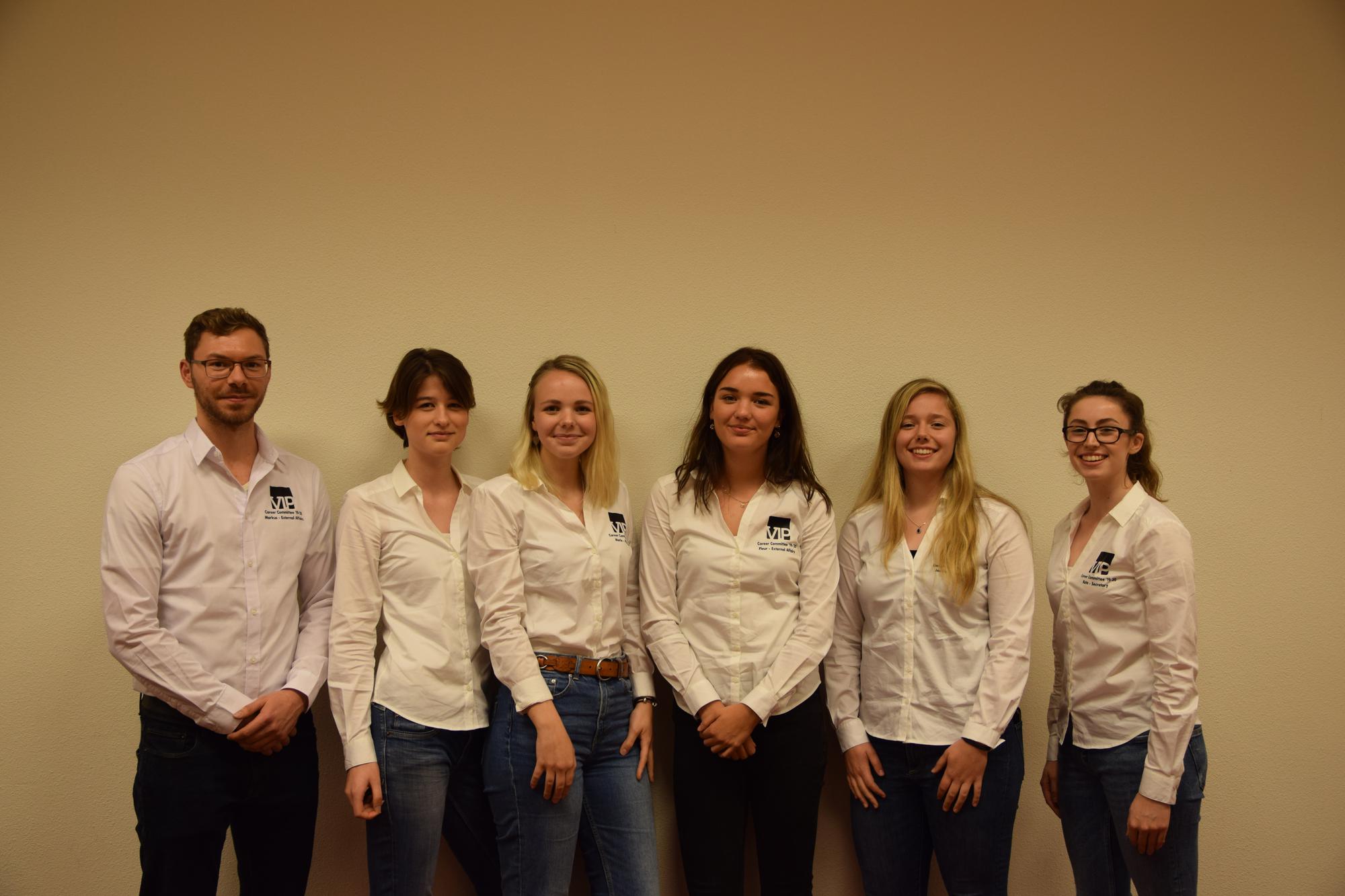 Let us introduce ourselves:
Our treasurer, Josefien, is one of our last joining members. Although she is a busy bee and inexperienced as a treasurer, she is committed to guard our money like a nice version of Scrooge McDuck (Dagobert Duck). Together with Josefien, Kate joined the committee and became our secretary. She is the one, who can always be found in the UB taking breaks. When she is not taking breaks in the UB she is usually chilling out with a glass of wine. But don't underestimate her drinking skills as she is Irish and will outdrink everyone. Fleur, Sarah, Markus and Merle were kind of the "founding fathers" of this year's career committee. Markus is mainly responsible for the external affairs (although he is also doing acquisition undercover) and labelled the "grandpa" of our group. If he is not out there, broadcasting his wisdom you'll usually find him eating nice food or being engaged in any kind of sports. Fleur is really extraverted and open and therefore the perfect fit to share the external work with Markus. Also, she is from Friesland, so she already has a lot of contacts abroad. Merle naturally struggles with keeping her mouth shut for more than five minutes, so she is well suited for the promotion work. If necessary, she will just continue babbling until everyone agrees to join the event. Last but not least, our chairwomen Sarah. She is without a doubt the most organized person of our group and most importantly, she manages to hold us all together.
Career committee 2019-2020
| | |
| --- | --- |
| Fleur Boonstra (2018) | External Affairs |
| Sarah Harders (2019) | Chairman |
| Markus Beusch (2018) | External Affairs / Acquisition |
| Merle von Malottki (2019) | Promotion |
| Kate Gough Gough (2018) | Secretary |
| Josefien Dijkstra (2018) | Treasurer |
The Career committee organizes four career-evenings every year. The topics of each evening are based on the different master programs that are offered at the University of Groningen. This means the evenings will be about Developmental Psychology, Industrial and Organizational Psychology, Social Psychology, Clinical Psychology, and Neuropsychology. On these career-evenings, people from the field will come and talk about their work and their career. They will also give career tips to the participants. If you are in this committee, you will mostly be busy trying to find multiple speakers for each evening, and a location. Flyers will also be handed out to let people know there will be a career evening.
E-mail: careercommittee@vipsite.nl