Workshop/Inhouse committee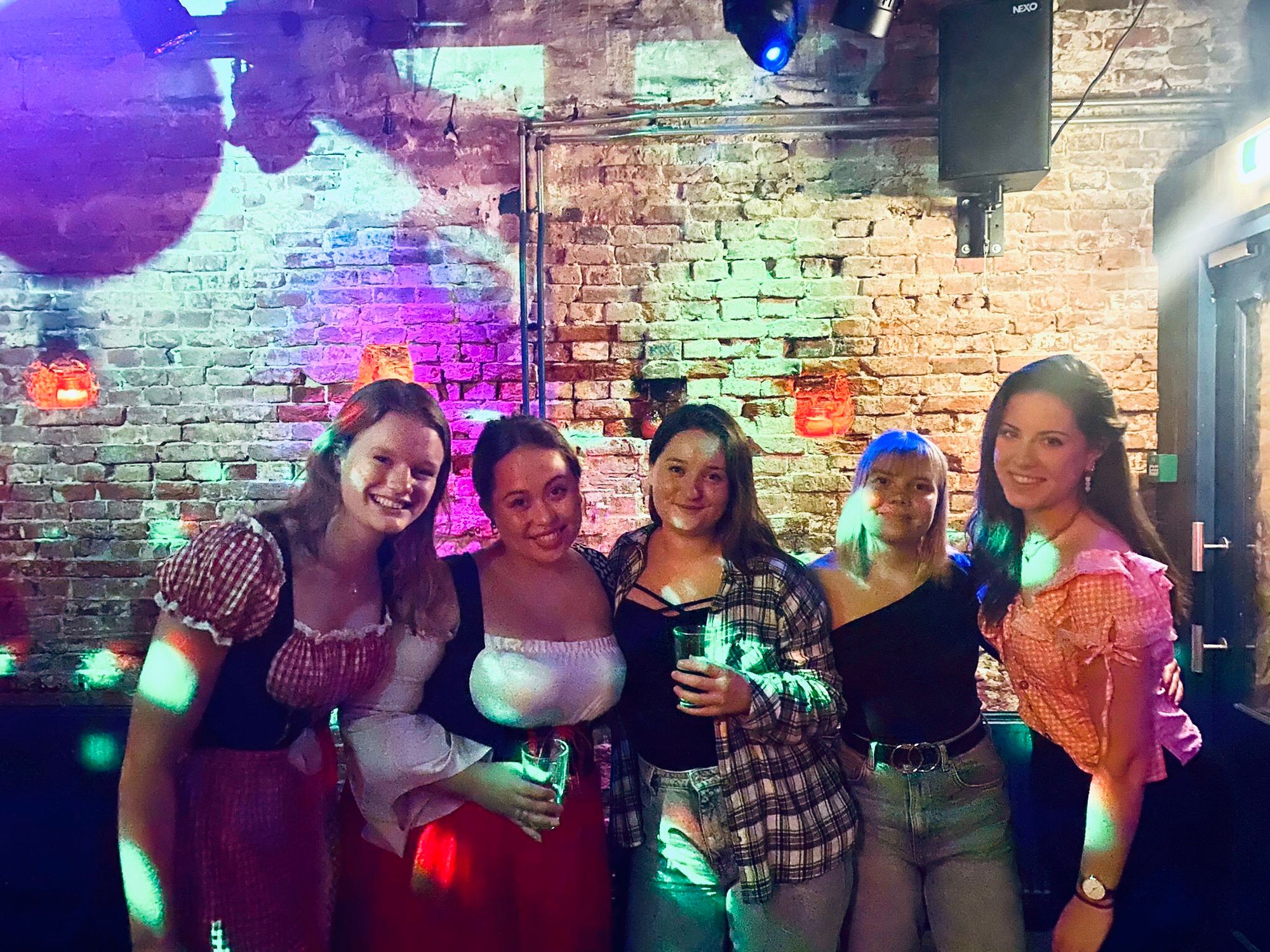 Hi! We are the Workshop/Inhouse Committee of 2021-2022! We are going to organize a couple of fun and interesting psychology-related workshops and day trips to psychology-related institutions or companies. We are very excited to organize these, but first, let us introduce ourselves:
First off is our lovely chairwoman Louise, a 19-year-old girl, who loves cooking and dancing in the club with her friends. Don't be surprised when this dancer randomly starts doing a whole choreography in the middle of the dancefloor. It's her first year in a committee, but she was tough enough to take on the role of chairwoman and although she was a little nervous at first, we will all help her and she's excited to organize interesting workshops and in-house days and is looking forward to learning from being the chair of this committee.
Next up is our secretary Pilvi! She is a 19-year-old Finnish girl who was born in China and also lived in Dubai, so she has seen a lot of the world, but gladly she is here now to strengthen our committee. Literally, strengthen our committee, because she might be the shortest of us all and look really sweet but she loves weightlifting and is definitely the strongest of us all! She also loves yoga, going out with friends and is looking forward to organizing workshops and day trips!
Since we have a lot of activities to organize this year and a lot of parties to keep in contact with, we have two girls for our external affairs. One of these girls is Judith, a 20-year-old girl who loves to live in the 'gezellige' city of Groningen. You can find this sporty girl at the hockey field in her hometown Roden. She loves to be outside in nature, the only time you will find her inside is when she is baking a delicious cake! She is excited to learn a lot from this committee and get to know new people this year!
Our next member, Annika, will not leave Judith alone with all the hard work this year. These partners in crime will make sure the speakers for our workshops actually show up and we have nice locations to go to! Annika is 20 years old and comes from Groningen. She is looking forward to learning new skills, broadening her horizons in the psychological field, but especially to having nice VIP dinners. Every week she listens for 4 hours to as many strangers as possible who anonymously call "de luisterlijn" and share their deepest secrets and life stories with her. She can be found at least once a week in the forum cinema watching the most recent movies and docu's.
The next, Miral is our treasurer, why is she our treasurer? We don't know because she spends all her own money on drinks in the club to the point she is broke at the end of the month. But practice makes perfect and she hopes she will learn a lot this year. If you see her at a party, make sure you always smile because before you know it she snaps a picture of you with her little analog camera. You can find her often at a sushi restaurant because she loooves sushi, which is yet another reason she spends too much money. Let's hope she will do a better job at managing the committee's money!
Last but not least we have Ymke, a 19-year-old creative girl, who makes sure people actually show up to our workshops and day trips because she lures them with her beautiful promotion posters. She loves being around people, so next to meaning a lot for our committee she became an active member of VIP for all the nice parties! The day after the party you can find her reading a book or in a plant store, to buy yet again a new plant (like she doesn't have enough).
We are all really looking forward to organizing the most fun and interesting workshops and day trips and we hope to see you all very soon!
---
Workshop/Inhouse Committee 2021-2022
| | |
| --- | --- |
| Louise Warringa (2020) | Chair |
| Pilvi K Kupiainen (2020) | Secretary |
| Miral Tuten (2020) | Treasurer |
| Annika Jansen (2020) | External Affairs |
| Ymke de Haan (2021) | External Affairs |
| Judith van Straaten (2020) | Promotion |
The Workshop/Inhouse Committee organizes at least two psychology-related workshops a year and organizes three day trips to institutions or companies where psychologists work.
Email: workshopinhousecommittee@vipsite.nl