Event committee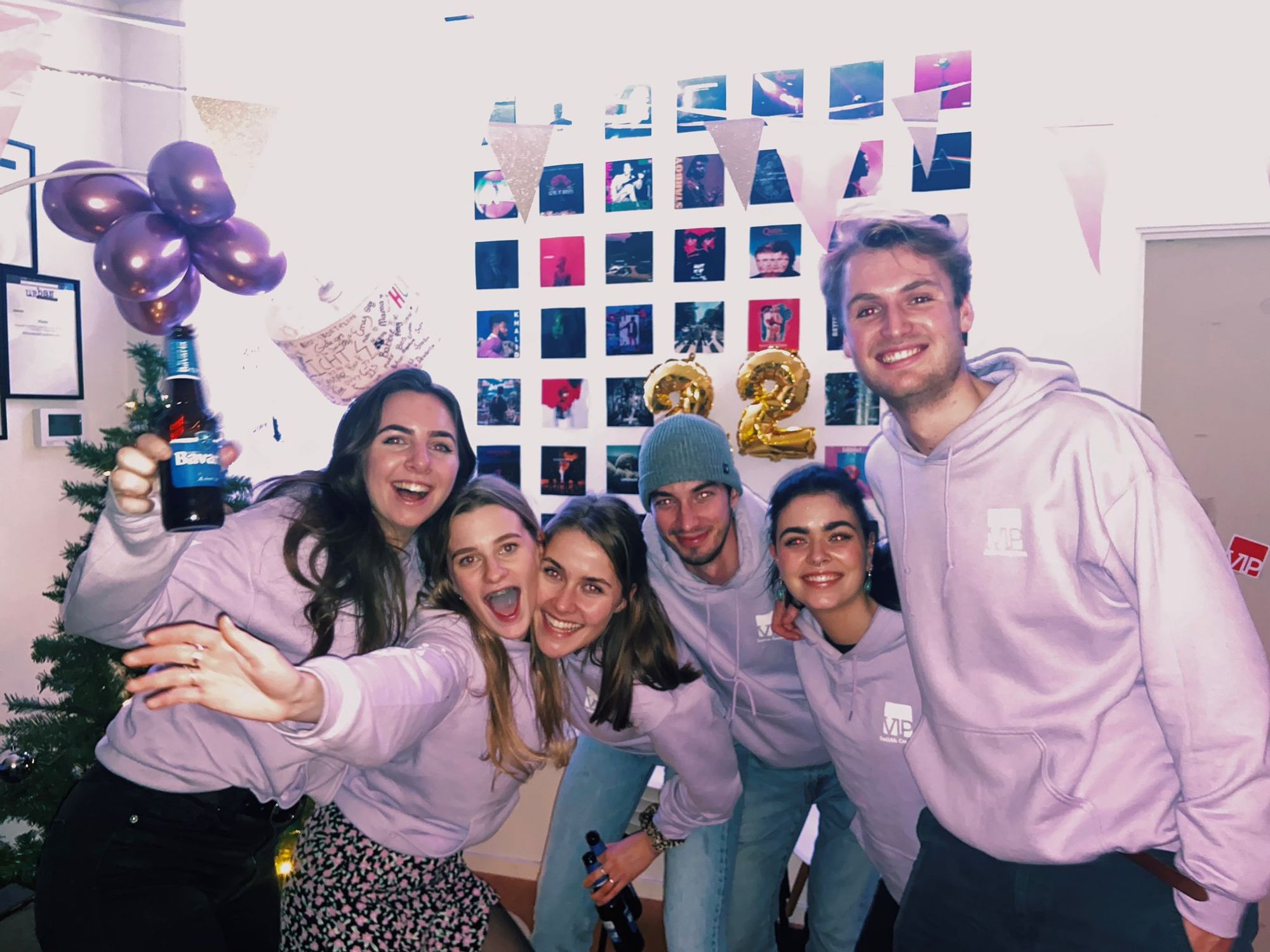 Lovro (Loro):
Say hello to this lactose intolerant Slovenian guy. If you want to see him at 19:00, tell him to meet at 18:00. Also, if you want him to leave at 19:00, just put some dairy into his meal at 18:45. This guy is a bit all-over-the-place, psychically and mentally. Psychically because one weekend he is in Paris and the next in Slovenia. For the mental part, just go hitchhiking with us and you will see for yourself. Lovro is our treasure, also he is our treasurer. He's good with money, but also at making sangria. Curious about his sangria recipe? Ask Sadhbh, because she really enjoyed it.

Sadhbh (Sive):
They say that Irish people can handle their liquor, but Sadhbh did not live up to this expectation. To say she enjoyed the Lovro's Sangria, is an understatement. To say the least, her cycling capabilities were really tested and she even tried to hug the tarmac. Drunk Sadhbh is telling everyone "Ik how fin ow", don't get confused, she's trying to tell you she loves you. At least she's writing our minutes better than she's writing Dutch. She is a messy drunk but to tell you a secret: she´s an organized secretary!
Babette (Babs):
This pup is not a pup anymore. She turned into a big alpha wolf. This wolf is actually a big caring alpha wolf. After Sadhbh's Sangria night, Babette tried to bring her home. Although it was a nice try, they ended up at Noorderplantsoen… Sadhbh lives at Hereweg on the other side of the city.
Seeing as Babette is already stressed on a normal day, it makes us wonder how she will take care of herself during the hitchhiking and the Batavierenrace. But at least our promotion will be prioritised, because this creative wolf will take care of our Promo. Babette is not only good at Promo, she was also surprisingly good at Trek n´ bak Mania when she played it for the first time. Curious? Ask Naomi.
Naomi (Naomi)
Although Naomi is a second year student, she's just started to look around the Hoek here at VIP. Speaking about the Hoek, Naomi likes her kaassoufflé at midnight. Wanna take advantage of Naomi? Give her a beer or two so she's a bit tipsy and the tequila will be flowing your way. Babette and Jelle already tried it by letting her play Trek n' bak Mania, because Naomi will definitely have to trek some baks. This rock chick is crazy about karaoke. Music is her thing. Want to make music with Naomi? Just slide into her DM´s (naomivdhoek). This opportunity is just around the Hoek, grab it. Hopefully her skills as external affairs are just as good as her guitar skills, then we´ll be fine.
Floor (Floorpizza)
This mighty woman is our leader, the one we´re terrified of (just like the pizza guy we're talking about later), our chairwoman. Although she says she knows everything in Groningen, she can't even find the Korreweg. She's living like a queen. She probably needs some butlers to help to watch her stuff. After our Sangria night, we went to get pizza, of course she lost our ticket for the pizza and got in a fight with the pizza guy. After some shouting to the guy, she got her pizza and decided to be the wise one and leave early. In reality she walked around for half an hour trying to find her bike. In the end, wei howden fin ow.
Jelle (Grandpa)
Behind the geraniums of his house, the Sangria night started. Although he is the grandpa of the group, he sure likes his drinks. Like most grandpa´s, sometimes he likes them a bit too much.
Although he was very responsible on the Sangria night and managed to get Sadhbh finally home, rumour has it that normally he is the one that needs to be taken care of. Luckily for Jelle, he has a big caring alpha wolf in his committee. This grandpa is keeping his spirit young by being active everywhere. He is crazy about tennis and hockey so want to get in acquaintance with this acquisition guy? Just throw a ball up.
Event Committee 2021-2022
| | |
| --- | --- |
| Floor Hanna de Ruiter (2020) | Chair |
| Sadhbh Cregan Cregan (2020) | Secretary |
| Lovro MR Sarabon (2021) | Treasurer |
| Naomi van den Hoek (2020) | External Affairs |
| Babette Bijen (2020) | Promotion |
| Jelle Stegeman (2019) | Acquisition |
The event committee organizes two big activities. One activity usually is a hitchhiking contest, the other one is the participation at the Batavierenrace.