Event committee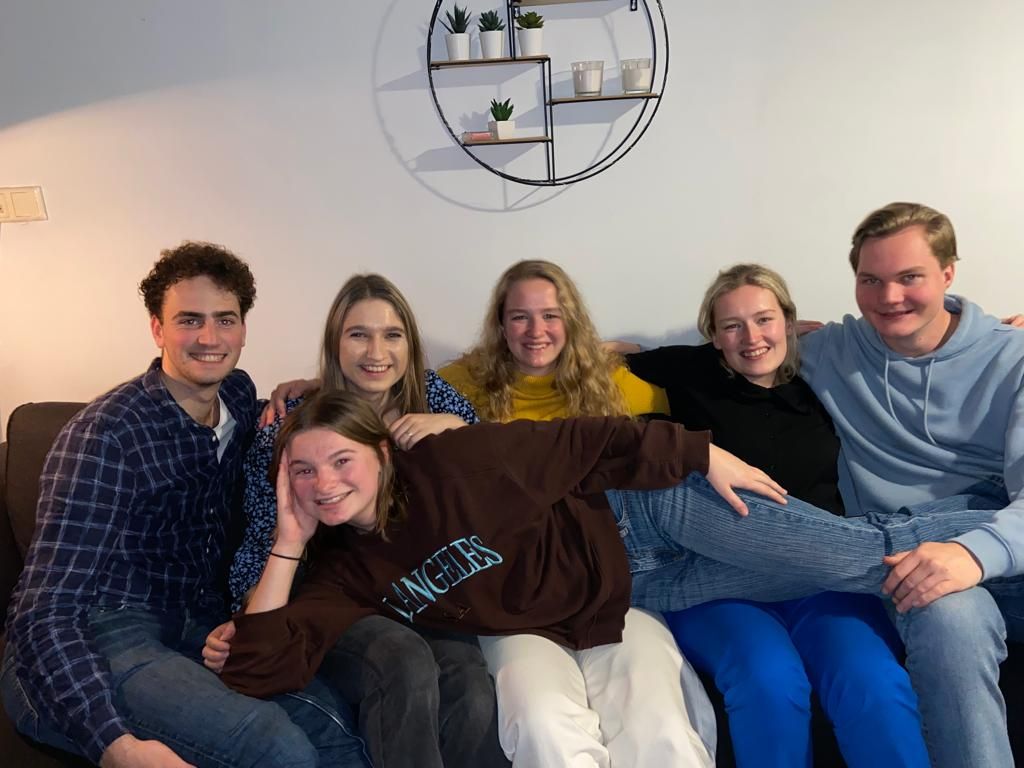 Welcome to our committee page! We, as the event committee, will organize two very fun events this year. With the hitchhike weekend up first and the Batavierenrace a bit later into the year. We are looking forward to seeing some of you during our activities and we hope that you have a great year at VIP! Now for our awesome members:
It is hard not to see this 2 meter tall giant. Simon is our chair, which is funny since most of us would need a chair to even look him in the eyes. He loves listening to music and can tell you everything about different scents and perfume. You can find him at concerts, surrounded by old people, enjoying himself, some even call him an old soul. Another thing about Simon is that he absolutely LOVES games. We can't end a committee evening without playing at least one game. I'm pretty sure you can wake him up at night to play a game of '30 seconds'. Lastly, he is not afraid to say what he thinks. If Femke makes a stupid comment (which happens quite often) Simon will instantly say how he feels about that and this makes for a lot of laughable situations everytime that we all spend time together.
Next up is Femke, or as we like to call her: Femkoe. Femke is the baby of our committee and our lovely secretary. She constantly makes you laugh with her randomness and jokes and is very kind. She always thinks that she is able to do everything by herself and refuses to ask for your help (especially when she is drunk), but if you see a drunk Femke in the wild, she may need some help getting home, because biking gets seriously tough when you are drunk, right? ;)
Our treasurer Joyce is a different kind of species. She loves to get really drunk at times, which makes her very 'verstrooid' (all over the place). She once wanted to hand in her OV-bike at the central station after going out, but once the lady that worked there told her she couldn't hand in a bike without actually bringing it, she realized she left it in the city. Joyce makes sure (with stories like this) that we always have something to laugh about, together with her funny comments. Although sometimes she can be a bit messy, she is very good with numbers and always makes sure they add up in the budget, which makes her our great treasurer.
Our person of external affairs is Jildou, also known as Djildoe. Her personality is even easier than the pronunciation of her name. She is also known for her great beer pong skills ;) Jildou is always doing something. If she isn't busy with school, you will probably find her at either a party or at the gym. And because she is everywhere to be found, she makes a great person to take care of our external affairs. We are all really happy to have her as a part of our committee this year. And remember, please do not ask her to be in your beer pong team!
And then, our badass promotion woman: Lotte (please call her Lottoe, she will absolutely LOVE it). She always says it like it is and won't be shy about standing up for something that she's passionate about (like why Christmas is no fun at all). Please don't pick a fight with her because you're not going to beat this karate chick. She's our lovely 'krokante vrouw', as she likes to call herself, and you won't catch her saying a sentence without 'moker' as an adjective for basically everything. All jokes aside, her promotions for the event committee have all been great so far and we really enjoy having her on the committee :)
Last but not least is our acquisitioner Stijn. Stijn is very social and always up for a chat. He is definitely one of the more responsible members of our committee and he's an awesome teammate to have, not only on the tennis court, but also during board games like 'Slimste mens'. His good calling skills (which he definitely should keep doing, so Femke does not have to undergo his so-called 'exposure therapy') make sure that we have great deals for our events. Stijn makes a great asset to our committee with his smart ideas and we are glad to have him as our acquisitioner this year.
Event Committee 2022-2023
| | |
| --- | --- |
| Simon Koopman (2020) | Chair |
| Femke van Dam (2022) | Secretary |
| Joyce Kijlstra (2021) | Treasurer |
| Jildou Peeters (2020) | External Affairs |
| Stijn Vermeulen (2020) | Acquisition |
| Lotte van der Schoor (2021) | Promotion |
The event committee organizes two big activities. One activity usually is a hitchhiking contest, the other one is the participation at the Batavierenrace.