Dies committee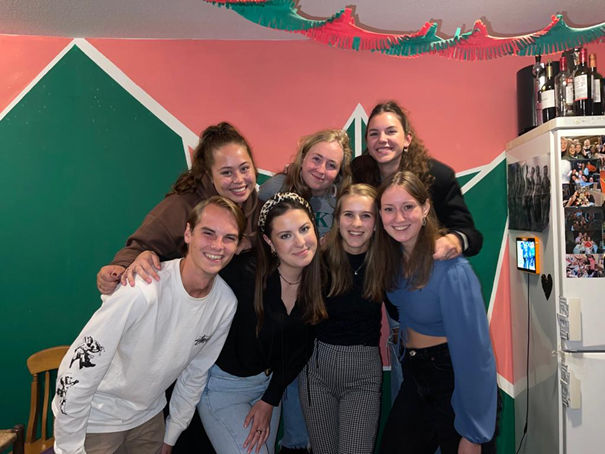 Louise:
Louise is responsible for this year's promotion. You have to be very creative for this function
and there is no one more suitable for this position than our Louise. She rocks a corset like
it's nothing and she blows everyone away with her dance moves. If you know her a little bit,
you will know that she likes doing the macarena the most. After a night in the pub or (a rave
festival), she is always up for a eierbal from the Hoek. The only thing that is weird about this
girl is that she has a relationship with a very old man… 24? Lou, you should know better
than this. All jokes aside, Louise you will do great this year and the sweaters already turnt
out amazing! Pop off queen!!
Kris:
Our dear Kristel is the chair of the Dies committee. People that know Kris, know that she is
thick skinned, which is a great quality for a leader. Nevertheless, her new boyfriend makes
her a big softy, maybe even a simp. We all think that's very cute. Kris loves a good house
party and is also great company when it comes to clubbing. She has many great talents but
chugging a beer isn't one of them. Keep practicing Kris!
Even though she is the youngest of her committee, she is a great leader and does a great
job of fulfilling her role as chairwoman.
Miral:
Miral is our acquisition girlie this year. The dies has to get a lot of acquisition, so Miral and
Joris have to work as a team to get us as much money as possible. We are still doubting if
Miral is capable of this job since she always gets things done at the last minute and this
might not be the best quality when trying to get acquisition money. Miral is also not the best
at drinking, she will be the first to get tipsy after a glass (or two) of wine, so if you see her
acting crazy at the Dies week or at another activity you know it's just the wine talking(; But
Miral, without jokes, with a little bit of help from all of us we are sure that you will help
organize a great Dies week and get us lots of acquisition money.
Ps Miral trek een bak xx
Eva:
This year, the external affairs function is in the hands of our lovely Eva. When she just joined
our committee, she managed to impress us all with her best qualities: chugging a beer
amazingly fast and having her own opinion, which she doesn't mind defending in a heated
argument with Joris. Next to this, Eva is a woman that knows what she wants. Not only
academically speaking, but also at night if you know what I mean…
Next to all of that, Eva is fun and a great conversation maker. Therefore, we are convinced
that this woman on a mission will help us organize an awesome diesweek!
Joris
Next up we have Joris, together with Miral he does the acquisition for our committee. He is
the only boy in our committee but when he was asked if he wanted to be in a committee with
all girls it was a loud yess! In the beginning of this year Joris left us to go to Thailand for a
few weeks. What a good and enthusiastic committee member trying to get some sponsors
over there! We are really proud of him! But although he came back without sponsors, he
came back with a lot of beautiful memories (which we really love for him). He is a great
asset to our committee. With his enthusiasm we are sure to get enough sponsors for the
dies so we can make it a great week for everyone!
Janet
This year´s treasurer is none other than our amazing Janet. One of the sweetest people
we've ever met. She is the mediator of the group that keeps the calm and hears everyone
out. This year she has to be the cold money woman who keeps control over the finances.
Don´t worry because Janet is known for being stone cold and competitive while playing
simple board games. Janet also has a wild side that she sometimes shows, for example
staying as the last person of the committee at the party or getting the attention of a boy
occasionally. So with her calmness and competitiveness we believe she has what it takes to
be a great treasurer.
Marije
Our lovely Marije is this year's secretary. This way she can learn to stop talking for once and
just type out our minutes! Just kidding, who doesn't want to hear Marije's sexy, raspy voice?
Marije is quite the entertainer: whether it's chugging a beer while doing the splits or telling us
stories about boys with the letter F, she always puts a smile on our faces! But there's more
to Marije, she also has big brain energy. It always surprises us that a social butterfly like her
can manage to keep getting good grades at the same time. Maybe this is because the ub is
her favorite place to be, perhaps because of the people there? Anyway, what really matters
is that we are very happy to have Marije in our committee, we are sure she'll do a great job
as secretary. And remember: Santé santorger, Marije wodka gorgel!
Dies Committee 2022-2023
| | |
| --- | --- |
| Kristel Marleen Raspe (2021) | Chair |
| Marije Krakau de Jong (2020) | Secretary |
| Janet Greidanus (2020) | Treasurer |
| Eva van den Bosch (2021) | External Affairs |
| Miral Tuten (2020) | Acquisition |
| Joris Raijmakers (2021) | - |
| Louise Warringa (2020) | Promotion |
The Dies committee organized the Diesweek/ Introduction camp. VIP celebrates the arrival of new students with our Diesweek (birthday week) and our introduction camp. Everybody is welcome, and there are a lot of fun activities or parties you can join. You definitely do not want to miss this!