Students
BELSIMPEL
Are you a student and do you want to combine your student life with a great job? Then Belsimpel has a unique opportunity for you!
Join the (German) Customer Service Team at Belsimpel as a Customer Service Specialist German or join the Dutch team as a Specialist Klantenservice!
As a Customer Service Specialist, you will not only be part of our Groningen-based company, you will also be part of our internationalization. Do you like to go the extra mile to offer our German customers the very best solution? Your time at the Customer Service Desk will consist of varying tasks, whereby you can plan your hours from 09:00 to 00:00 and from Monday to the weekend! Belsimpel offers good supervision, but we are also open to your ideas. You will be part of a nice team with international and Dutch students. All you have to do is send in your application!
For more information, you can click on the posts below!
---
TENTAMENTRAININGEN TUTORS​
---
TENTAMENTRAININGEN WRITERS
CAREER SERVICES
Studying is about more than just gaining a degree certificate. It is also about preparing for a successful career, and Career Services is here to help students of the University of Groningen do this. Career Services helps students to make well-informed choices and gives them the opportunity to realize those choices. They do this by offering workshops and training courses, and by providing help with writing a CV and letter of application. You can also come to Career Services for personal careers advice.​
---
BELSIMPEL
*This vacancy is in Dutch*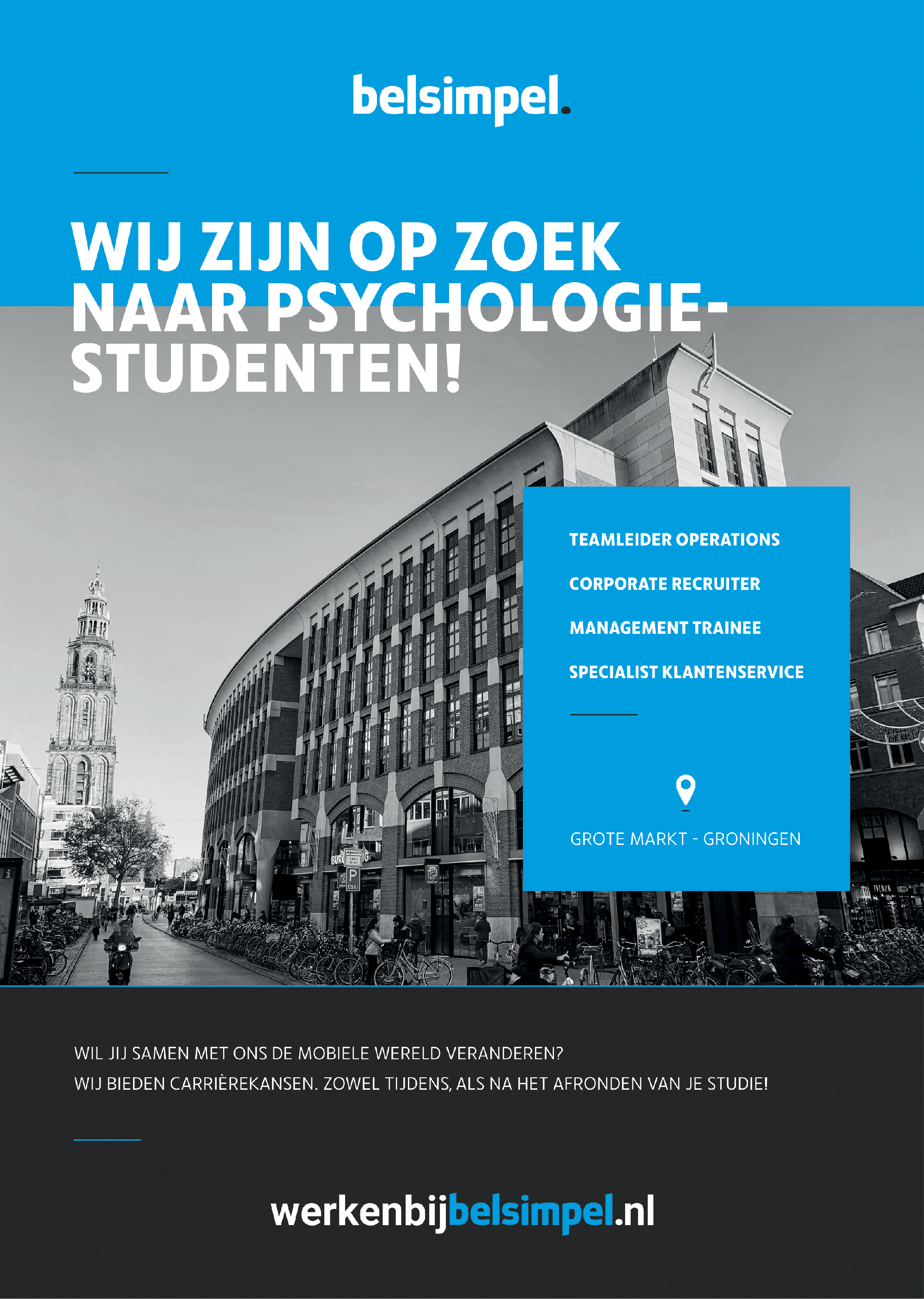 ---
TEAM050
*This vacancy is in Dutch*
Bij Team050 kan je werken aan je toekomst in de zorg of het onderwijs!
Team050 biedt begeleiding aan kinderen, jongeren en jongvolwassenen tot 23 jaar met diverse vormen van problematiek (bijvoorbeeld; ASS, AD(H)D, angstproblematiek of een hechtingsstoornis). De begeleiding vindt vaak bij de cliënt thuis of op een school plaats en wordt gegeven door een jonge professional; begeleiders die een relevante HBO/WO-opleiding volgen of hebben gevolgd en tenminste hun propedeuse daarin hebben behaald.
Team050 kan jou een leuke, leerzame en goed betaalde werkplek bieden die jou relevante werkervaring binnen de jeugdhulpverlening oplevert! Ben jij 20+ en tenminste één jaar beschikbaar? Meld je dan aan op onze site! https://www.team050.nl/werken-bij/ of bel voor meer informatie naar 050-3110019
---
JOHO WORLDSUPPORTER
*This vacancy is in Dutch*
Wat doe je?
Je deelt informatie over je studie; van verplichte stof tot aan tentamentips. Je helpt bij de PR voor JoHo en JoHo WorldSupporter via social media en flyeracties.
Wie ben je?
Je staat middenin het studentennetwerk, bent bij voorkeur actief bij een vereniging en volgt een studie waar JoHo samenvattingen en studiehulp voor uitbrengt. Je regelt informatie en staat in contact met je netwerk om het aanbod aan samenvattingen te regelen en te verspreiden.
Waar werk je?
Je werkt op diverse locaties (o.a. bij flyeracties op locatie)
Hoeveel werk je?
Je werkt tussen de 1 – 5 uur per week
Solliciteren of reageren?
Vul dan het JoHo Sollicitatie- en Interesseformulier in op JoHo.org of bekijk de overige mogelijkheden voor bijbanen op JoHo.org
---
DIVERSE BIJBANEN BIJ JOHO
*This vacancy is in Dutch*
Bijbaan bij Stichting JoHo
Diverse leerzame bijbanen naast je studie bij JoHo:
Word bijvoorbeeld JoHo Studentmanager, Auteur, Centercoach in de winkel, Webdeveloper, Administratief medewerker, Summary Supporter of WorldSupporter Moderator.
Meer lezen en reageren?
Bekijk de mogelijkheden voor op JoHo.org en vul het JoHo Sollicitatie- en Interesseformulier in.