Voluntary work
FRISSE GEDACHTES
*This vacancy is in Dutch*
Beste studenten,

Sinds kort is het platform Frisse Gedachtes gestart. Hier kunnen studenten gratis en anoniem chatten met ervaringsdeskundigen en psychologiestudenten, ook wel buddy's genoemd. Als je meer wilt weten over wat dit platorm precies doet, breng dan een bezoekje aan onze site: www.frissegedachtes.nl.

Het platform is opgericht in Nijmegen en gaat erg goed: al meer dan 100 vrijwilligers hebben zich aangemeld, en al een aantal studenten maakt gebruik van ons platform.

Nu willen we Frisse Gedachtes ook landelijk opzetten en dus ook in Groningen! We zoeken daarom nog een aantal mensen die het leuk lijkt om in het lokale bestuur hieraan mee te werken. De taken bestaan o.a. uit het maken van promotie, het organiseren van evenementen en het onderhouden van het contact met andere organisaties.

Nu snap ik dat je natuurlijk nog vol vragen zit over wat het allemaal precies inhoudt, maar dit leggen wij je graag nog eens uit tijdens een Zoom meeting. Heb jij in ieder geval voor nu interesse? Laat het ons weten en stuur een bericht naar frissegedachtes@gmail.com!
__________________________________________________________________________
PROVINCIE GRONINGEN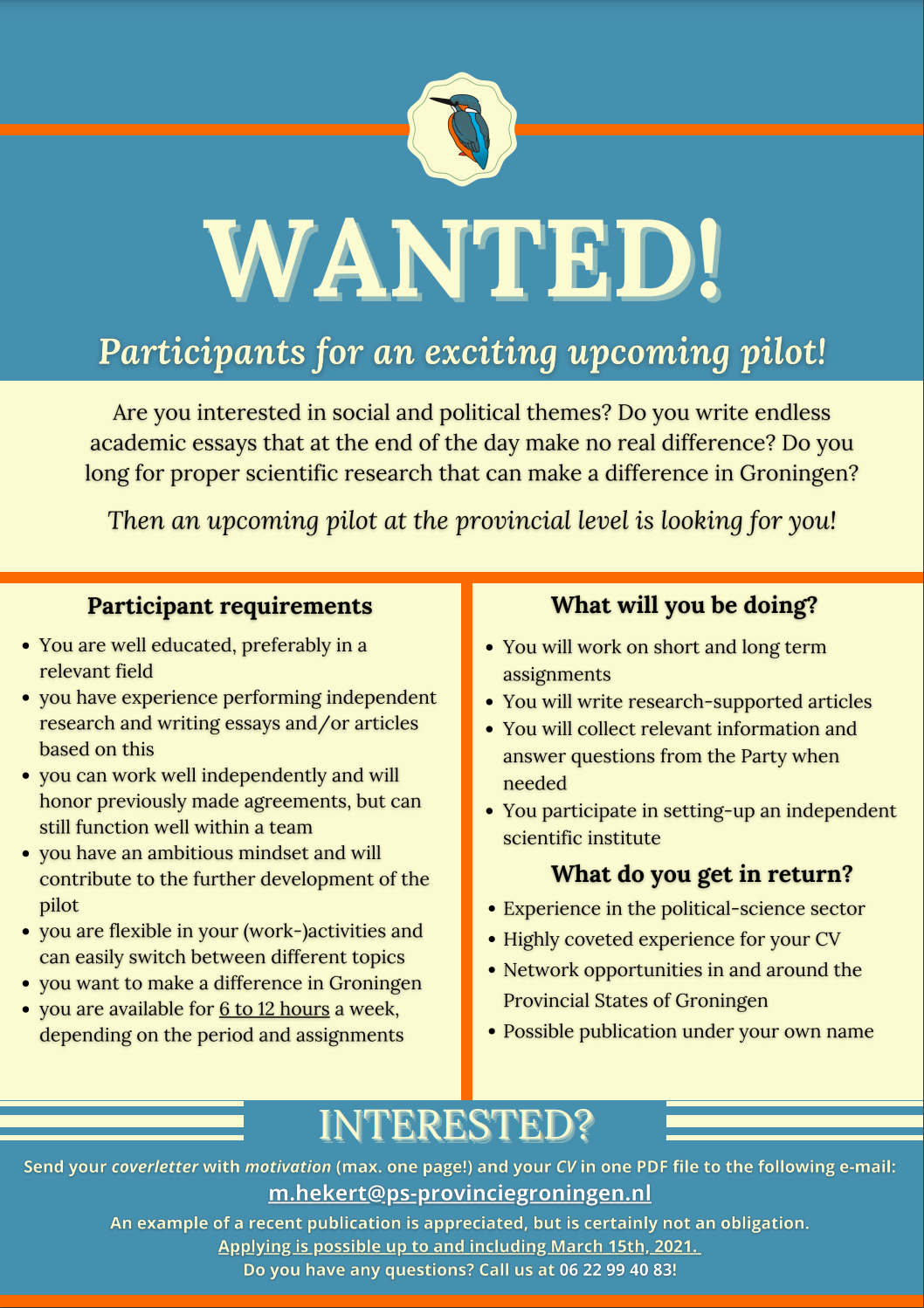 Click on the picture above to go to the vacancy of the province of Groningen or copy the following link: https://www.linkedin.com/jobs/view/2434819442/?refId=x9QSSw3KSbqjrdZQn%2B30Pw%3D%3D
__________________________________________________________________________
Stichting WigWam
*This vacancy is in Dutch*
Klik op bovenstaande foto om naar de website te gaan!