Students
________________________________________________________________________________________________________
________________________________________________________________________________________________________
________________________________________________________________________________________________________
________________________________________________________________________________________________________
Career Services
Studying is about more than just gaining a degree certificate. It is also about preparing for a successful career, and Career Services is here to help students of the University of Groningen do this. Career Services helps students to make well-informed choices and gives them the opportunity to realize those choices. They do this by offering workshops and training courses, and by providing help with writing a CV and letter of application. You can also come to Career Services for personal careers advice.
​
________________________________________________________________________________________________________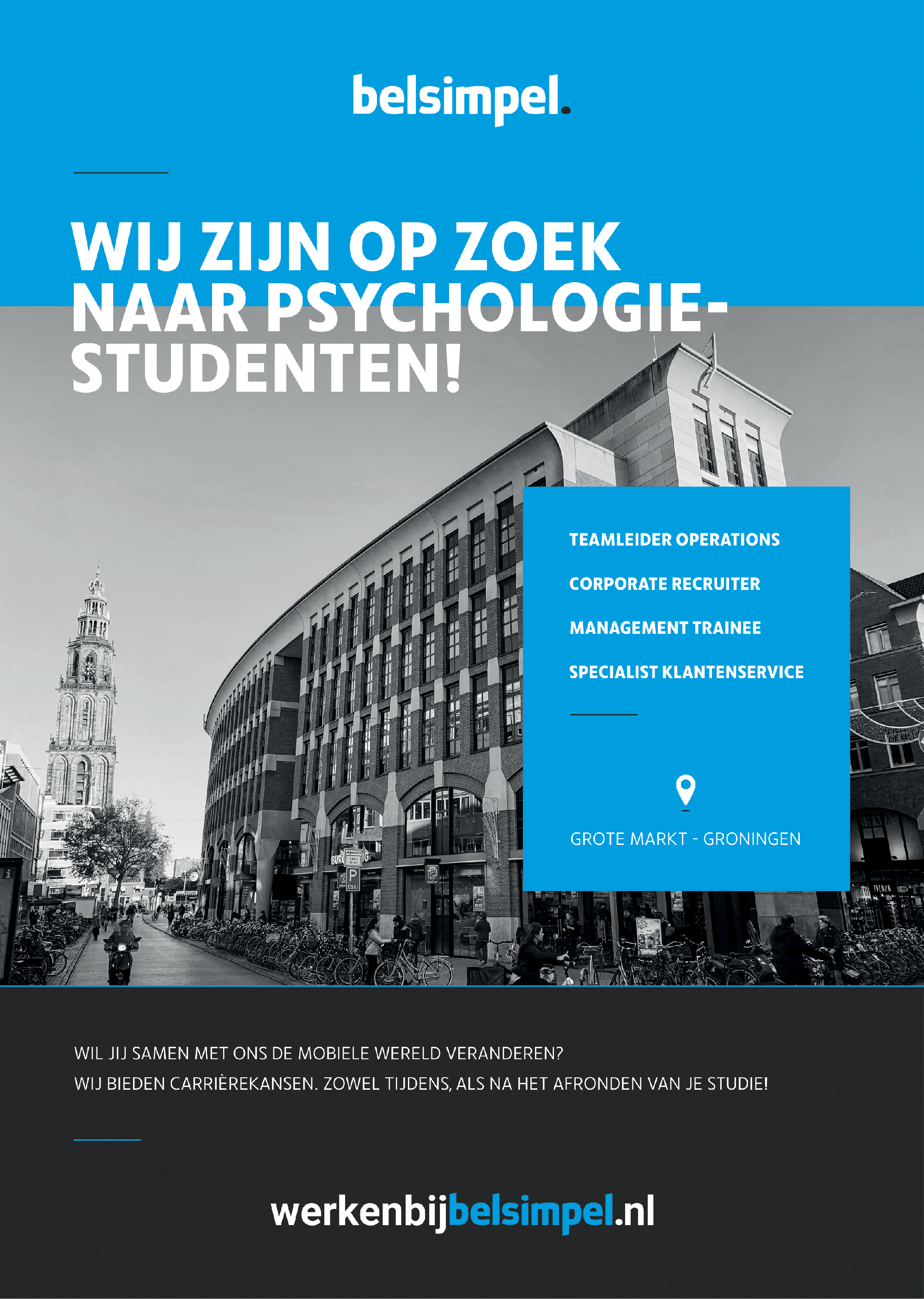 ________________________________________________________________________________________________________
Wij zoeken
Psychodiagnostisch medewerkers in Groningen (di). Voor deze functie is een Bachelor in de Psychologie (WO) vereist. Wij zijn op zoek naar pro-actieve collega's die zelfstandig kunnen werken, zeer goede schriftelijke uitdrukkingsvaardigheden hebben, een kennis hebben van psychiatrie, verbanden kunnen leggen, om kunnen gaan met feedback en analytisch kunnen denken.
Functieomschrijving
De werkzaamheden bestaan uit het afnemen van beperkte psychodiagnostische interviews bij volwassenen en de verslaglegging daarvan in samenwerking met een psychiater. Rijbewijsbelang.nl biedt onafhankelijke diagnostiek, maar geen behandeling. In deze functie kenmerkt de relatie met de cliënt zich meer als beoordelaar dan behandelaar. Wij zoeken daarom een collega die niet alleen affiniteit en vaardigheid heeft op het terrein van diagnostiek, maar eveneens beschikt over het vermogen en de bereidheid zich te voegen in de rol van onafhankelijk beoordelaar.
Wij bieden
Een leerzame functie binnen een zeer goed aangeschreven diagnostische instelling. Het aantal te werken uren in overleg ongeveer 8 uur per week, met mogelijkheden tot uitbreiding indien je ook in Zwolle kunt werken. De werkzaamheden kunnen deels vanuit huis worden verricht. De samenwerking wordt op freelance basis aangegaan. Een ideale baan om te combineren met je Masterstudie!
Solliciteren
U kunt uw korte motivatiebrief, voorzien van CV, indienen via de website van Indeed door op het bovenstaande logo van RijbewijsBelang te klikken.
Kijk voor meer informatie over het bedrijf op www.rijbewijsbelang.nl.
Parttime uren: 8 per week