Study committee
Study Committee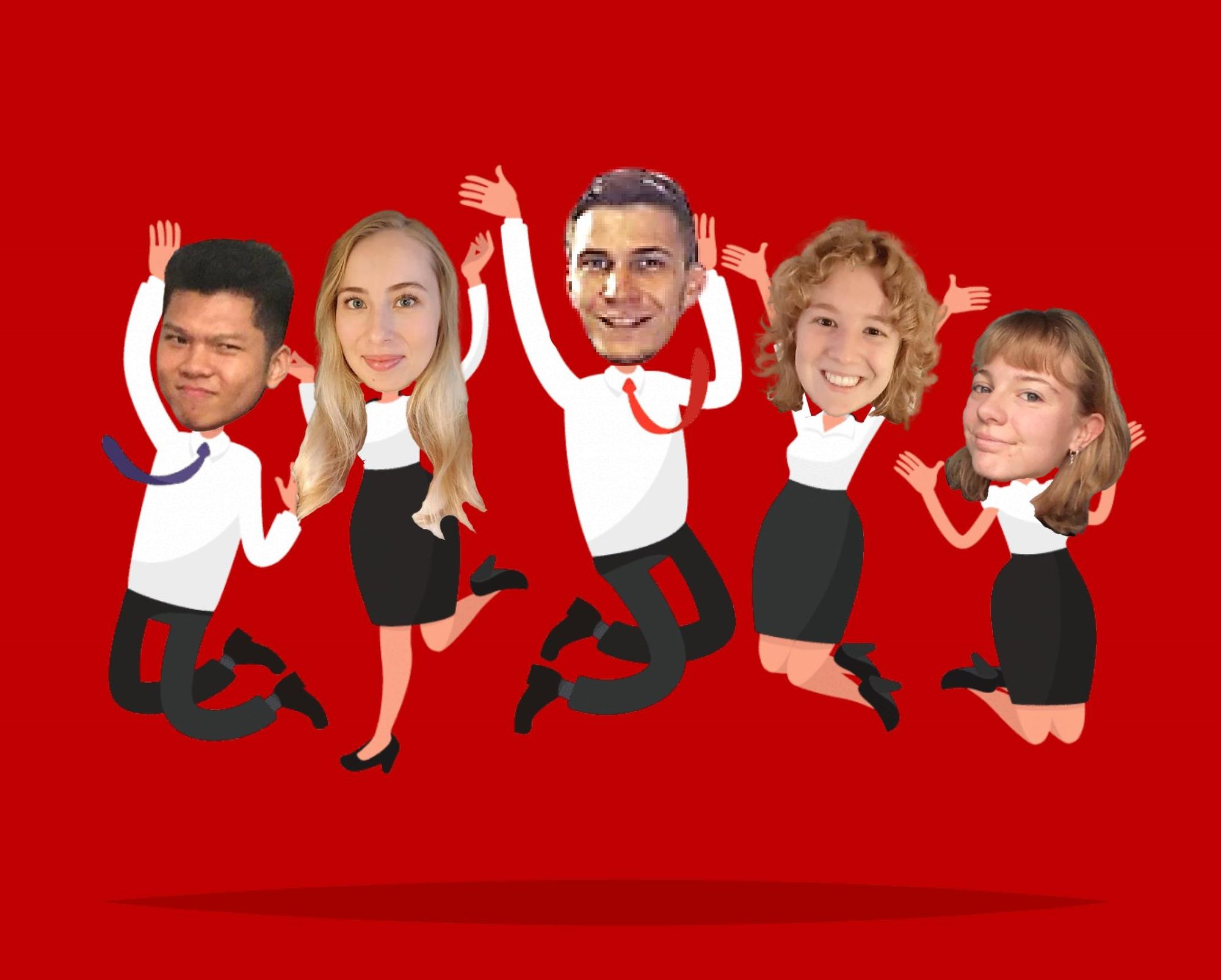 Hi!
We are the Study Committee of 2020-2021. We look a bit more cartoonish than usual on the photo due to corona. As the Study Committee we will make sure you can order the correct books for your courses. That makes studying a lot easier ;) In normal times we would also organize study days, we hope that will be possible again soon!
As you can see the committee consists of five members. The guy on the left is called Wong who is the General (member) in the committee. His tasks are conveying information, ideas or policy to the committee from the V.I.P(in other words,checking emails) and coordinating with others to arrange pick-up day of books for fellow students. Wong is a mysterious man who does not tell his story on the internet.
Next to Wong, you'll find Nadine. She is our treasurer but also responsible for the promotion of the study days. While she loves spending time in nature, she can't stand getting cold. She really enjoys playing card games but is unable to memorize the rules of a single game. Other than that, she is obsessed with dogs and cats, likes doing yoga and hates biking.
The guy in the middle is called Roelof. He shares the chairman's duties together with Aline. Roelof is an avid reader and has too many geeky interests to name. If you do not find him studying in the library, reading a novel curled up in a blanket, or petting one of the faculty garden's cats; you will probably find him in the climbing gym.
The girl with the curls, fourth from the left, is called Aline. She takes on chairman tasks together with Roelof and general member tasks. In her spare time she likes to draw, paint, do other creative stuff, see friends and family, take walks in nature, sing karaoke (at home), watch Swedish series, listen to 60's-80's music and play theater and squash (not all at the same time though). She has an enthusiastic and bubbly personality but can sometimes be a bit perfectionistic too.
Hannah is the girl to the far right. She is our secretary and responsible for noting everything discussed during the meetings in the minutes. When she isn't busy studying or working at the library, she likes to play the violin, listen to music, take walks, read, and play games with friends and family. When she is playing a game, she definitely plays to win.
Now you've got an idea of who we are and maybe we'll see you in the future!
Best regards,
The Study Committee
Study committee 2020-2021
| | |
| --- | --- |
| Aline Baukje de Boer (2018) | chairman |
| Wong (2018) | - |
| Roelof Wagner (2019) | - |
| Nadine Beck (2018) | - |
| Hannah Hendrikse (2020) | - |
The Study committee is in charge of the book sales at the beginning of each block. They are in contact with the book supplier, and make promotion for the book sale. They also make sure they know which books are used for every course during a semester to make sure everyone gets the books they need.
​
E-mail: studycommittee@vipsite.nl