Stoso congress committee
STOSO-Conference Committee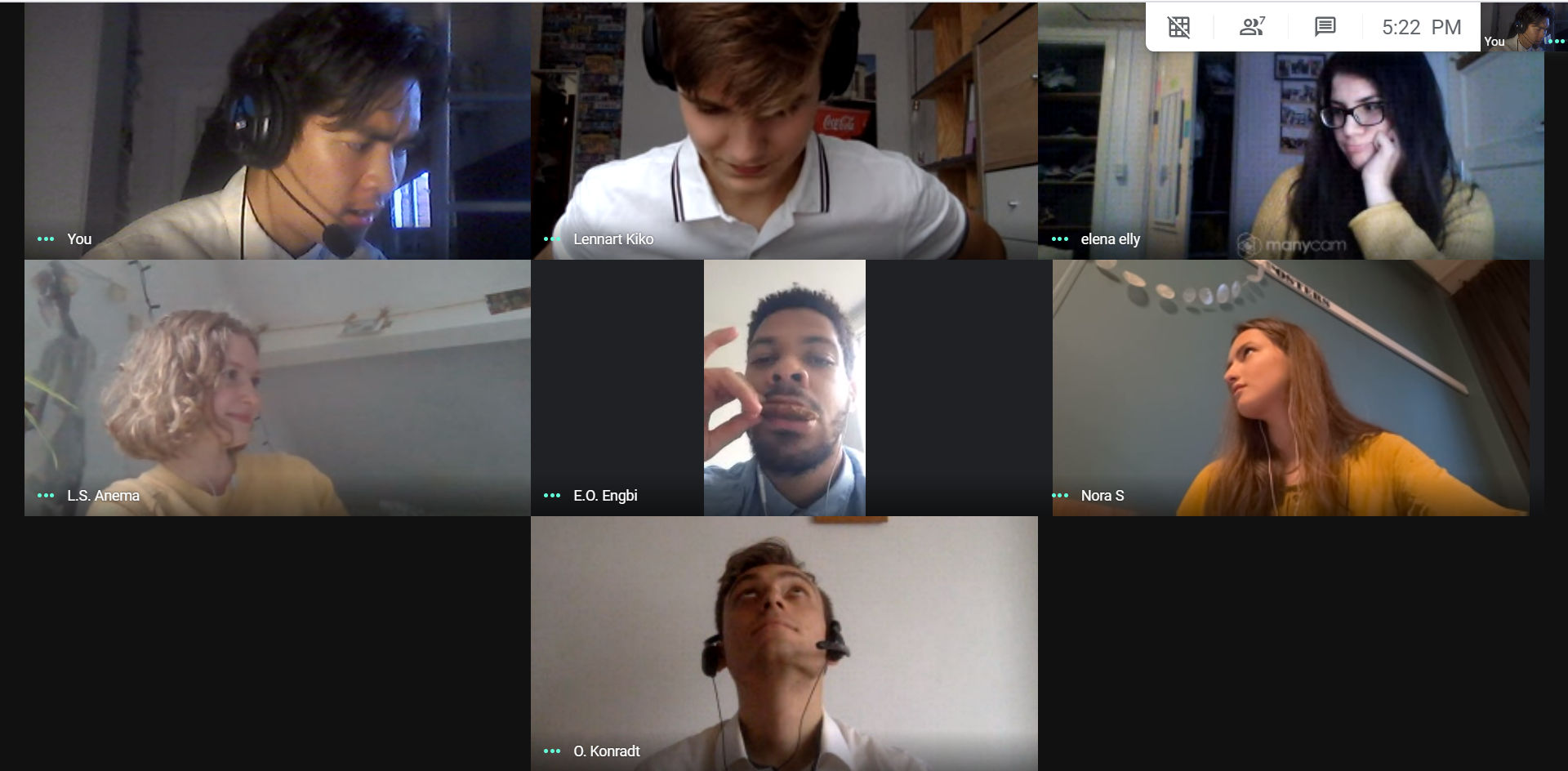 The STOSO congress committee organizes one big event at the end of the year: the STOSO congress! This is a one-day congress that focuses on a contemporary topic in the field of Social Psychology and Industrial and Organizational Psychology. The visitors get in touch with the topic by means of captivating lectures, hands-on workshops and networking possibilities. Although the congress is mainly aimed at psychology students, it also interests students from other disciplines and people in the workfield. This is why it attracts many people: around 100 visitors every year!
Sam, aka Giang, stands in front of our committee as the chairman. He already gained experience as a year representative last year. This year, he started over alone with all the power in his hands and hence he recruited the rest of us. When Sam is not 1.5 h late for a regular weekly Chicken Wings tradition, he is very responsible, organized and will lead us through well. Sam likes to see his role in the committee as a dad, who is caring and has a solution for everything. Sticking to this metaphor, he values keeping the rest of this family together and thereby Sam organizes online social meetings and game nights.
Optimist is our treasure(r) and social butterfly. Hello can you hear me? When his internet is not failing he tries to contribute as much as possible to our committee discussions. He's very enthusiastic and always tries to crack a joke to lighten the mood up. Especially when he's not taking his revenge on Lisette by eating wings he enriches all of us (and his other two committees). A hard working man, to say the least, but without Sam he won't step a foot into the gym. Moreover, he's a philosophical mastermind. An Inspiration for all of mankind.
If you ever come across a girl, with curly hair and a big love for plants, sushi, Norwegian hip-hop and nature, that's Lisette. She is a second-year student of Psychology and originally from Drachten near Groningen. She wishes to live in Scotland one day and feels Scottish on the inside. Lisette is a multitasker, which comes quite handy as she is the Secretary of our committee. Breaking news: She never biked in Groningen, instead you'll see her walking around with her best friend, reaching every destination by foot.
For our external affairs concerning speakers we have Oliver who is a polite and intelligent person. He is rather quiet when he is surrounded by people he doesn't know but he gradually becomes more talkative when he gets comfortable around those people. He also does not share a lot of details about his private life with people he does not consider to be friends yet(nobody knew for a month that he can read Romanian even if he is German). Did you know that he is generally extremely interested in other cultures and foreign languages? He is a good and fun person and he is so damn lucky at poker. He always contributes with new and innovative ideas and he is a reliable person.
If you ever need a personal bartender for hire, Lennart is your man. But he is not in the STOSO Congress Committee for his Mojitos but rather for his role in External Affairs. He is responsible for making sure our congress has a roof over its head and keeps in touch with the host of our location. His most favorite places to spend his time are ranked #1 IKEA, he could spend a whole day there eating meatballs, and #2 his stylish and pimped up living room. Besides that, if you show any interest in german rap or cars, he will be able to tell you about all the news in the world surrounding those topics.
Elena is the secret mastermind of the STOSO Congress Committee. Always coming up with new ideas and always showing us the right direction. Without her sense of leadership and courage we would still be quite shy around ourselves. Elena knows how to cheer up the group meetings and with her enthusiasm overrides any obstacles in our way.
Elena is the best acquisitioner, we could have ever asked for. Fun Fact: She could have become a Bond girl, but she decided to come to our committee. She makes the best acquisition deals with companies and in our social meetings she played us in "Among Us" like parents who took their babies nose.
Nora takes care of the promotion for our congress. She makes sure our social media is up to date and everyone knows about the STOSO congress. She is a first year student from Germany and cannot live without her violin. She is a vegetarian but she will make an exception for ants as long as it's worth 50 points. She is a really happy person and loves to travel. Fun fact: she actually never even visited Groningen before applying here!
Stoso Congress committee 2020-2021
| | |
| --- | --- |
| Nora Sippel (2020) | - |
| Lisette Sina Anema (2019) | - |
| Elena Neagu Neagu (2019) | - |
| Oliver Konradt (2019) | - |
| Lennart Kischko (2018) | - |
| Optimist Engbi (2018) | - |
| Quang Giang Le (2018) | chairman |
Each year the STOSO-congrescommittee organizes the STOSO-congress. This congress is in the theme of Industrial and Organizational Psychology. The goal of the congress is to build a bridge between the theory and the practice. About 150 people participate in this congress. The congress always has a few interesting lectures given by people in the field. The lectures alternate with some workshops where the participants can be active. As a member of this committee, you have to take care of acquisition, to make sure the whole day can be paid for. Also, you have to make promotion for your event, find good lecturers and people who can give workshops and coordinate during the day itself.
E-mail: stosocongress@vipsite.nl